---
AFP: The International Monetary Fund renewed its warnings against protectionism on Thursday as nationalist political trends threaten trade integration on both sides of the Atlantic.
As the IMF and World Bank kicked off what are normally staid meetings, with central bankers and finance ministers from 189 member countries gathering in Washington, anti-free trade rhetoric in the United States and Europe created a tense atmosphere.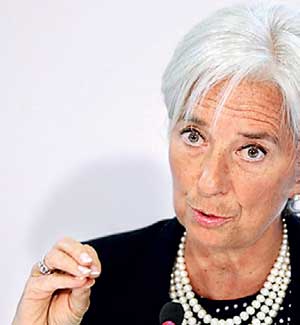 In her opening remarks, Christine Lagarde, the IMF managing director, tried to downplay differences with new US President Donald Trump's administration over trade, financial regulation and climate change.
The fund this week bumped up its forecasts for global economic growth slightly to 3.5 percent for this year, a recently rare upward revision reflecting a rosier view of conditions in Asia and Europe.
But while acknowledging disillusionment with globalization, Lagarde said member countries should avoid the lure of trade barriers.
"All countries, of course, should guard against what I have called the self-inflicted wounds, such as restrictions, subsidies and other trade distortions that reduce competition and economic openness,"
she said.
Lagarde's remarks came as Britain heads toward an exit from the European Union and France prepares to stage presidential elections that also raise the prospect of quitting
the bloc.
The United States is the IMF's largest single shareholder and holds veto power on the fund's board.
But Trump won the White House on a nationalist economic agenda and Commerce Secretary Wilbur Ross this week dismissed some IMF concerns as "rubbish."
Nevertheless, Lagarde said Thursday she believes the Trump administration could be an effective partner.
"From the various contacts that I have had with the administration so far, I have every reason to believe we will make progress," she said.
The fund would press for "a fair and level playing field," she added, saying that that meant "no use of distortive measures, no protectionist measures going forward."
"We need to make sure that this momentum is sustained and that we continue to have that growth and, more importantly, that that growth is shared more equitably," Lagarde said.
Needed steps include fairer taxation, job-training assistance and infrastructure investment as well as forward-looking measures to address unsustainable debt and pension schemes, she said.
"We are very pleased to see that trade is picking up. Is trade going to continue to increase and grow? We do so think so," she added.
"Is there room to improve that? Of course." Speaking to CNBC television following her address, Lagarde issued a stark warning about the prospects of a far-right victory in France's presidential elections, the first round of which is set for Sunday.
"It would certainly entail major disorder," she said.
Although polls do not suggest a clear path to the presidency for Marine Le Pen, the leader of the far-right National Front, pundits are wary of saying she cannot win. Le Pen has pledged to take France out of the eurozone and stage a referendum on exiting the EU, as Britain voted to do last year.
Meanwhile, German Finance Minister Wolfgang Schaeuble called on the Trump administration not to turn its back on trade liberalization.
"All of us have benefited greatly" from global integration and trade in recent decades, and Washington has been a leader in the process, he said in a speech ahead of this week's semi-annual meetings.
"Surely it's in America's own interest to ensure security and economic stability" in its trade partners, he added.
Speaking at a separate event on Thursday, US Treasury Secretary Steven Mnuchin declined to wade into controversy over the US trade policy.
However, in a possible nod to multilateralism, he said that discussions held among members of the Group of Seven and the Group of 20 economic forums were "very productive discussions."
At the same event, White House economic adviser Gary Cohn said the United States was only seeking fair treatment.
"We treat our trading partners the way they treat us," said Cohn, a former Goldman Sachs banker who now chairs the new National Economic Council.
A trading partner's tariffs would be met by a countermeasure, Cohn said at a forum held by the Institute of International Finance.
"We treat you in reciprocal fashion. That is fair," he said.