---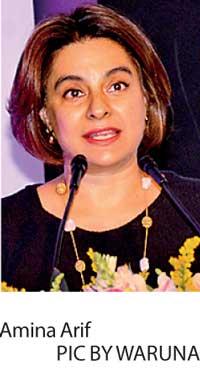 The International Finance Corporation (IFC), the private sector arm of the World Bank Group, is evaluating nearly US $ 250 million worth of investment opportunities in Sri Lanka's private sector.

"We are currently evaluating perspective investments of almost a quarter of billion dollars in Sri Lanka," IFC Country Manager Amina Arif revealed.

Addressing Sri Lanka Investment and Business Conclave 2019, organised by the Ceylon Chamber of Commerce, in Colombo yesterday, she said that these investments include a wide range of sectors, including tourism, financial services and infrastructure.

Arif noted that IFC has invested over US $ 1.3 billion since 1970s in Sri Lanka's private sector, to promote inclusive growth.

"We have a 50-year successful track record in Sri Lanka and we have invested over US $ 1.3 billion across sectors, including infrastructure, telecom, tourism, energy and health," she said.
As half of Sri Lanka's GDP is generated by SMEs, she stressed that the country needs to address the barriers to access credit, for SMEs to drive the economic growth.

Further, she also remarked that the restrictions on female participation in the country's labour workforce remain a growth constraint for the country.

As Sri Lanka's female labour force participation rate remains below half of male labour force participation, due to various constraints, Arif noted that IFC has launched the largest gender programme on its platform in Sri Lanka.
"We have the largest gender programme across IFC in Sri Lanka today; it's supported by the government of Australia. The Women in Work Programme aims to create more and better jobs for women and have the potential to increase and drive the economic growth," she added.
Elaborating IFC's strategy in Sri Lanka, Arif said that promotion of export-driven firms, technology eco-systems, sustainable financial inclusion and infrastructure development are the main pillars of the IFC strategy.
Further, IFC also currently works with the government in assisting to tap the renewable energy potential for the country, by bringing in the private sector to develop large solar and wind power projects.
She highlighted that Sri Lanka remains to be among a handful of post-war countries, which have been resilient in steady positive economic outcome.
"We see our role in Sri Lanka more important than ever. We believe in long-term growth potential. This allows us to play a critical, catalytic role as an investor, knowledge provider and partner," she said.
(NF)