---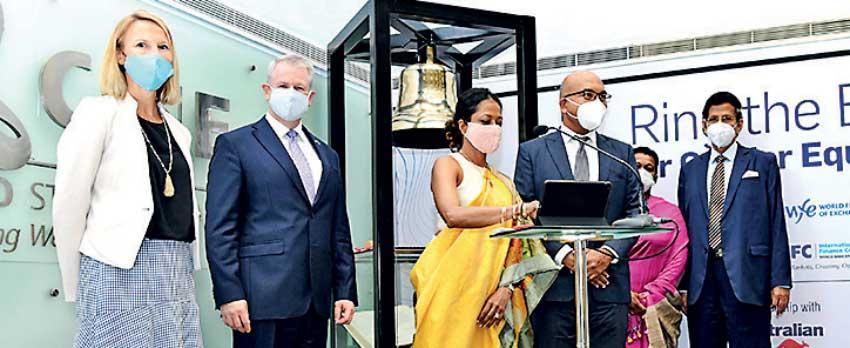 From left: IFC Manager Women in Work Sarah Twigg, Australian High Commissioner in Sri Lanka David Holly, Hemas Holdings PLC Executive Director and Group CEO Kasturi Chellaraja Wilson, CSE Chairman Dumith Fernando, Sri Lanka Institute of Directors Chairman Rasakantha Rasiah and Senkadagala Finance Board Member Dr. Roshan Perera
Celebrating the International Women's Day, IFC, a member of the World Bank Group, yesterday joined the Colombo Stock Exchange (CSE) for the sixth consecutive year to 'Ring the Bell for Gender Equality'.

The annual global event highlights how women's participation in the economy can spur sustainable private sector development.

This year's event comes at a critical moment, as the economic and social consequences of COVID-19 continue to disproportionally impact women, who make up 39 percent of global employment but account for 54 percent of the overall job losses, due to the pandemic. According to McKinsey Global Institute, the job loss rate for women is 1.8 times higher than for males. Studies show that making even small inroads in closing the global gender gap could quickly yield strong results, with the potential to increase gross domestic product (GDP) by US $ 12 trillion by 2025. "We are pleased to once again join IFC and our other partners to ring the bell for gender equality in 2021," said CSE Chairman Dumith Fernando.

"The event this year takes largely a virtual form compared to the events in previous years, given the restrictions posed by COVID-19 on public gatherings. However, the CSE was keen to continue the momentum and use the Bell Ringing ceremony as a call to action in 2021 as well because we strongly believe that the greater participation of women in our workforce, economy and capital market can make a positive impact to society and our country at large. As we recover from a global pandemic, we encourage corporates to capitalise on the skills of women in the workforce today to spur on our recovery."

Accelerating the pace of gender parity could lead to important economic, environmental, social and governance gains in emerging and frontier markets. Despite some progress, women remain underrepresented in business leadership, with only 17 percent holding board seats globally.

IFC-CSE research indicates that around 9.5 percent of board directors of listed companies in Sri Lanka are women—a 30 percent increase from 2018. "Despite the unprecedented challenges of the COVID-19 pandemic, our research indicates a positive trend in the number of female directors on boards in Sri Lanka," said IFC Corporate Governance Officer Lopa Rahman.

"Since we started our research in 2018, over 75 senior and qualified women have joined corporate boards in Sri Lanka. We believe diverse representation on boards clearly leads to positive business impacts."

In Sri Lanka, IFC research has highlighted that the top 30 CSE-listed companies with higher gender diversity perform better in terms of financial measures, including return on equity, return on total assets and price to earnings ratio. IFC's 'Women on Boards' programme in Sri Lanka is part of the broader efforts to increase women's private sector participation and leadership by promoting the adoption of corporate governance practices among Sri Lankan companies. IFC's work in this area is supported by the government of Australia under the IFC-DFAT Women in Work programme.