---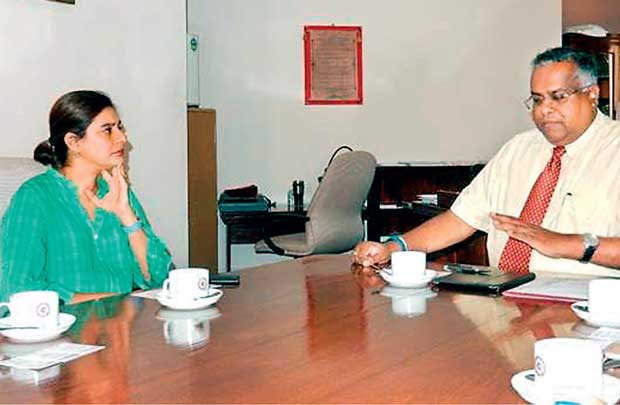 IFC Country Manager for Sri Lanka and Maldives Ameena Arif visited The Ceylon Chamber of Commerce last week. She was met by the Chairman of the CCC, Samantha Ranatunga.
During the discussion, Samantha Ranatunga said, the Ceylon Chamber of Commerce is keen to work with
the IFC.
"Chamber has a very rich history and a sound resource structure, which can be put into use to implement any viable project for the purpose of development of the country,'
said Ranatunga.
Ranatunga also said the importance of using IFC's expertise to transfer knowledge into specific sectors of Sri Lanka, such as 'highlighting the importance of trade agreements' to the Lankan stakeholders.
In response, Ameena Arif said, IFC is focusing on financing financially viable projects in Sri Lanka, and highlighted potential areas such as infrastructure, tourism, agribusiness, energy and also finance etc.
"The project, IFC gets involved should be viable and also should have a development aspect into it,' said Arif. She said, IFC is willing to work with both the public and the private sector. Dhara Wijayatilake, CEO of the Ceylon Chamber of Commerce and Alikie Perera, Deputy Secretary General of the Chamber also were present at the meeting. Priyanka Coorey, Senior Investment Officer at the IFC Sri Lanka, accompanied Arif.