---
By Shabiya Ali Ahlam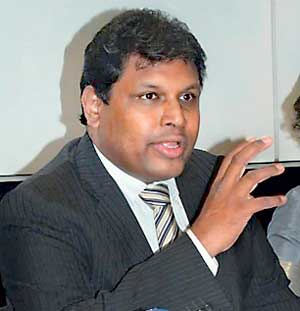 Sri Lanka's ICT agency chief yesterday said it had held initial discussions with the Central Bank of Sri Lanka on including crypto-currencies into the country's financial system. Information Communication & Technology Agency of Sri Lanka (ICTA) Managing Director/Chief Executive Officer Muhunthan Canagey said the Central Bank was supportive and showed interest in the idea.

However, he noted that for crypto currencies to come into play, Sri Lanka needs to have a clear strategy to liberate and enact new laws to facilitate such instruments in the country's financial system.

"We as a country need to start looking at this very seriously and for that we have to create an enabling environment to bring it (crypto-currencies) into the system. This is what I believe.
At the ICTA we will take this seriously, but as far as the implementation is concerned, it is the markets that will take this forward," he said.

Calling it a paradigm shift, Canagey said regulators must think in a broader sense, else it would not happen and the foreign exchange rules will remain a major topic of discussion.

"It is a disruptive technology and we should discuss this. Once Facebook and Google get into this, a lot is going to change," Canagey told a crypto currency forum facilitated by ISACA Sri Lanka Chapter in Colombo, yesterday.

Expressing similar sentiments, John Keells Holdings Executive Vice President/ Group CIO Ramesh Shanmuganathan said digital money could bring in greater financial exclusivity.
"While there is significant enthusiasm for digital money, there is little consistent understanding and demand. Institutional partners do not promote digital money and lack of information appears to prevent companies from working with each other," he said.
Shanmuganathan noted that in the current context, Sri Lanka is nowhere close to embracing crypto-currencies as a lot of ground work is yet to be initiated to pave the way for such a transformation.
He pointed out that Sri Lanka is still predominantly a cash-based society.

Crypto-currencies are digital currencies, which are used primarily outside existing banking and governmental institutions, exchanged over the internet.

While these alternatives, decentralized modes of exchange are in the early stages of development, and they have the unique potential to challenge existing systems of currency and payment.

There were more than 669 crypto-currencies available for trade in online markets as of August 2015 and more than 740 in total but only eight of them had market capitalizations over US $ 10 million. Bitcoin became the first decentralized crypto-currency in 2009.