---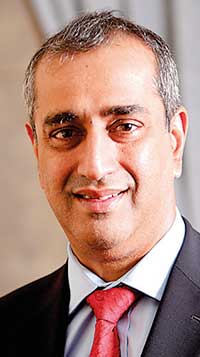 J a n a s h a k t h i I n s u r a n c e PLC r e c e n t l y announced the appointment of Husein Esufally, a leading business personality in Sri Lanka as the new Chairman of its board, following the ret irement of its incumbent Chairman and Director, W. T. Ellawala. Esufally, prior to the appointment, held the position of Deputy Chairman of the Board of Janashakthi Insurance PLC and its subsidiary Janashakthi General Insurance Limited.
He is presently the Chairman of Hemas Holdings PLC., where he served as Chief Executive Officer f rom January 2001 – March 2014. A r e p u t e d business figure in Sri Lanka, Esufally has been instrumental in t r a n s f o r m i n g Hemas from a private company to one of the leading blue chips on the Colombo Stock Exchange.
As an organisation that has continuously had strong and dynamic leadership, Esufally's wealth of business acumen and expertise across many industries will no doubt compliment the company's credentials, and contribute immensely towards further fortifying Janashakthi's position in the market place.
Esufally takes on the role of Chairman from his predecessor W. T. Ellawala, who joined Janashakthi as a Director at its inception in 1994 and subsequently took on the role of Non- Executive Chairman in 2005. For over two decades Ellawala has played a vital role in contributing towards the company's progress. Board of directors of Janashakthi Insurance PLC now comprises: Husein Esufally - Chairman, Prakash Schaffter - Managing Director, Jude Fernando – Director/ Chief Executive Officer, L. C. R. de C. Wijetunge, Manjula Mathews, Ramesh Schaffter, Eardley Perera and Anushya Coomaraswamy.