---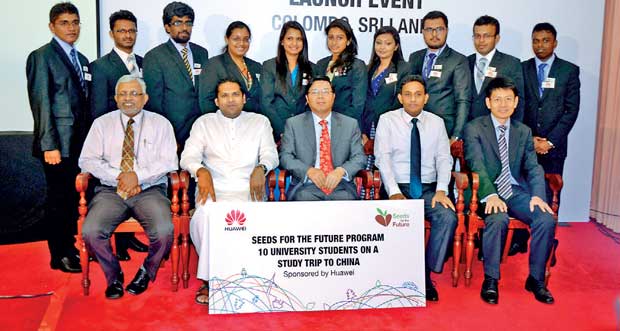 Minister Harin Fernando, Chinese Ambassador to Sri Lanka Yi Xianliang and CEO of Huawei Sri Lanka Shunli Wang with the 10 students who were selected to visit the Huawei Campus. Pic by Waruna Wanniarachchi
By Supun Dias
Chinese tech giant, Huawei has selected 10 undergraduates to visit their campus in Shenzhen, China to attend a workshop in Information and Communications Technology (ICT), as part of the 'Seeds for the future' programme in collaboration with the Prime Minister's Office and Ministry of Communications and Digital Infrastructure.
The students will visit China from November 5th to 19th, and these undergraduates were selected from eight universities across the country.
Minister of Telecommunications and Digital Infrastructure Harin Fernando said that this is a great opportunity for our future.
"A seed has been planted now. When we visited the Huawei Campus, we saw how much they invest on Research and Development, something that our country should do more, and I was told that more than 48 percent of Huawei revenue is invested back on R&D. Students attending the programme can enhance their abilities to adapt to the ICT industry as they learn more about state-of-the-art technologies and skills, as well as the innovation needs of Sri Lankan market," he added.
Chinese Ambassador to Sri Lanka Yi Xianliang said that this is one of the MoU's that was signed between Sri Lanka and China during Prime Minister Ranil Wickremasinghe's visit. He was speaking at the event at Prime Ministers' Office to brief the media about the programme.
"This is an area where China can help Sri Lanka in a bigger way. Sri Lanka lacks an industry system, and ICT could be a new industry that the country can focus on by looking at the future. We can help the country to finalize the much needed industry process," he stressed.
"ICT could be used towards the betterment of any other industry as well. Sri Lanka wants to become the financial hub through Port City, a logistics hub and now it can become an ICT hub as well. China is ready to help as always," he added.
Speaking at the event, CEO of Huawei Sri Lanka Shunli Wang said that ICT is the growth engine for many industries and for Sri Lanka it would make a big impact. "Globally Huawei focuses on educating the future on ICT, and every year we select 1000 students from all over the world to visit our campus and learn about ICT. Sri Lanka ranks high in our list," he added.
Huawei began its operations in Sri Lanka in 2005. At present, Huawei works with Sri Lankan operators to provide network services for about 70 percent of the population of Sri Lanka.