---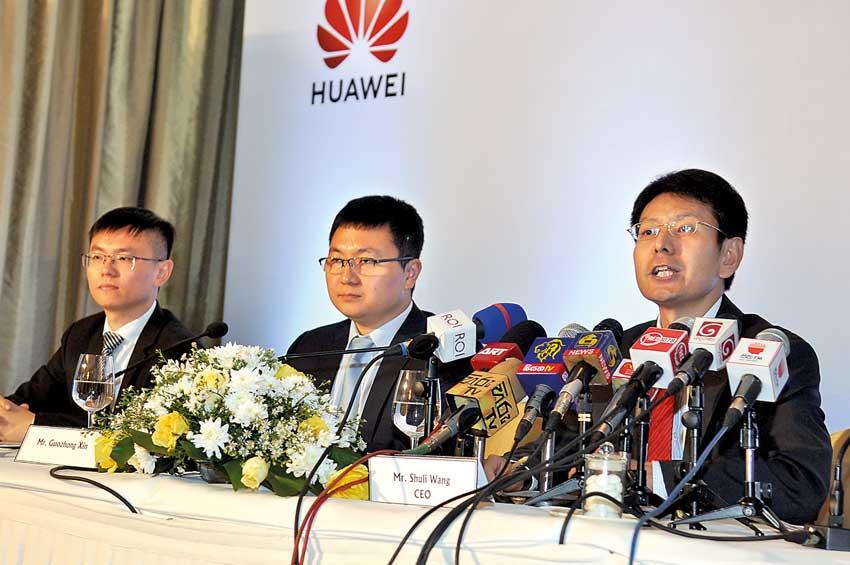 From left: Huawei Technologies Lanka Director Christophe Tsing Lee, Huawei Technologies Lanka Director Xin Guo Zhong and Huawei Technologies Lanka CEO Shunil Wang
Pic by Nisal Baduge
Huawei expects to play a major role in developing Sri Lanka's smart city ecosystem to further enhance the growth in Huawei's Enterprise Business segment and to support the country's vision to become an ICT hub in the region.

"The smart city concept is an excellent opportunity for Sri Lanka to drive future economic growth while retaining talent within Sri Lanka by creating more high-skilled job opportunities for Sri Lankans," Huawei Technologies Lanka CEO Shunil Wang told reporters in Colombo yesterday.

Huawei launched its Smart City Platform late last year to assist governments and other organisations develop tests and deploy smart urban initiatives, bringing together technologies such as artificial intelligence (AI), hybrid cloud and Internet of things (IoT).

Wang noted that as smart cities require a lot of talent from various industries, the smart cities would create attractive job opportunities for high-skilled Sri Lankans to retain in the country.

"We are very much interested in projects such as the Colombo Port City," he said.

According to Wang, Huawei's enterprise business in Sri Lanka has estimated to have grown by over 20 percent year-on-year (YoY) while its carrier business grew by over 10 percent YoY in 2018.
"We are now in a leading position in the enterprise segment and we are planning to retain the top position in the future through Huawei's innovation and customer service," he said.

Huawei is also supporting a local telco to deploy the 5G network in Sri Lanka late this year or early next year, which would be initially available for commercial use.
"We are now waiting for the government to identify the frequency for 5G," he said.

Wang believes that 5G will fast-track the digitalisation of the transportation, education and healthcare sectors in
Sri Lanka.

He noted that 5G is projected to bring industry opportunities worth US $ 1.2 trillion to Southeast Asia in the next
five years.

As 5G offers faster connections, more reliability and greater capacity at lower costs. It is expected to support cities to become smart with enhanced connectivity to their infrastructure, devices and people.

According to the Global Commission on Economy and Climate, smart cities could potentially save the world as much as US $ 22 trillion by 2050.

Huawei has already assisted over 120 cities in over 40 countries and regions implement various smart city projects.

During the 2016-2017 period, seven of those cities won international smart city awards at the Smart City Expo World Congress.

In 2019, Huawei also planned to focus more on new technologies such as big data, cloud, AI, IoT as well as intelligent computing to offer innovative solutions to business in Sri Lanka, to maximise benefits from digitalisation.

Wang remarked that Huawei Cloud in particular would be more suitable and valuable for the SMEs not in a position to afford cloud infrastructure.The company stated that it currently serves 70 percent of population of Sri Lanka through its solutions and equipment via telecom operators.
(NF)