---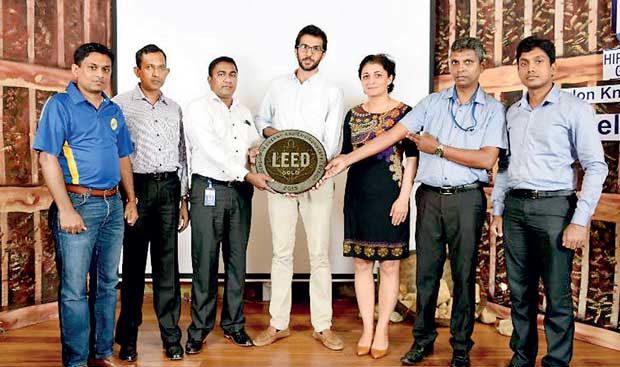 L-R Menuwan Premaratne – Operations Manager, Maithri Kiridenna – Divisional Head, Maintainance, Pushpakumara Perera – General Manager, Siddharth Hirdaramani – Director, Magda Aghababyan - CEO – Co-Energy (Pvt)Ltd, Malkantha Kathriarachchi – Maintenance Manager and Demmith Gunaratne – Assistant Manager, Environment Sustainability
Hirdaramani Knit, Eheliyagoda, was awarded the LEED Gold Certification by the U.S Green Building Council recently. The award, which is verified by the Green Building Certification Institute (GBCI), marks the Hirdaramani Group's fifth LEED Certified facility in Sri Lanka. The prestigious certification was audited by Co-Energy (Pvt.) Ltd.

The certification was awarded by Magda Aghababyan - CEO, Co-Energy (Pvt.) Ltd at the Eheliyagoda Auditorium in the presence of Siddharth Hirdaramani - Director, Hirdaramani Group and Pushpakumara Perera - General Manager, Hirdaramani Knit, Eheliyagoda.

The Eheliyagoda facility, one of the Group's longest standing properties, underwent several improvements as a part of the Sustainability Strategy that is being implemented across all facilities in the Group. One of the key highlights of the facility's achievements was an annual electricity saving of nearly 6% which amounts to approximately 82,990 kwh units. Adding to this, water usage per person was down from 36lt/day to 31lt/day, a reduction of 11%. The installation of a bio-mass boiler has resulted in a significant saving of 6,000 literes of fuel each month.

Commenting on the factors that made this achievement possible, Pushpakumara Perera - General Manager, Hirdaramani Knit Eheliyagoda commented, "The LEED Gold Certification signifies that our sustainability efforts have been a success and none of it would have been possible without the unwavering support of our top management and our team at the Eheliyagoda facility. I wish to express my sincerest gratitude while giving assurance of our commitment to continuously developing a 'green-mindset' across the factory".

Siddharth Hirdaramani, Director – Hirdaramani Group said, "Sustainability has always been at the core of our business. The staff at the Eheliyagoda facility have made a collective effort to ensure that the Group's goals to move towards more sustainable manufacturing processes are met, as we strive not only to transform the way we do business but also the way we live."

LEED, Leadership in Energy & Environmental Design, is a green building programme that offers certification recognising organisations that implement best-in-class building strategies and practices.