---
Earnings down to Rs.781.9mn
Loans grow 5.4% or by Rs.19bn
Individual impairments surge to Rs.932.4mn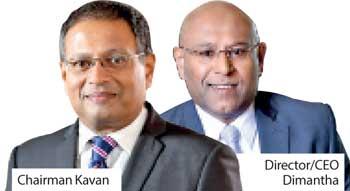 National Development Bank PLC (NDB) reported subdued performance for the quarter ended June 30, 2019 (2Q19) as the provisions made on possible bad loans spiked while lacklustre demand for new loans slowed growth.

NDB reported Rs.3.53 a share or Rs.781.9 million in total earnings for the April-June period, compared to the earnings of Rs.7.15 a share or Rs.1.11 billion reported for the same period, last year.

The net interest income, the difference between what the bank received for its loans and receivables and other financial assets and what the bank paid for its deposits and other funds, rose by a strong 16 percent year-on-year (YoY) to Rs.4.06 billion.
The net incomes received from fees and commissions also rose by a robust 24 percent YoY to Rs.1.17 billion. The bank attributed this growth to its fast rising card business and the steep uptake in the digital financial solutions.

However, the operating level performance of the bank was hampered by a significant increase in the provisions made for individually significant clients as the operating conditions deteriorated following the political uncertainty and Easter attacks on April 21. Such provisions for the three months stood at Rs.932.4 million, up from Rs.418.9 million a year ago.

The growth in the loans was just 5.4 percent or Rs.19 billion during the six months ended June 30, 2019 (1H19), as the demand for new loans waned due to poor business and consumer sentiment and higher rates, which prevailed until recently. The bank's gross non-performing loans ratio spiked to 4.56 percent, from 2.85 percent, at the beginning of the year.

Almost all banks had their asset quality weakened amid the slowdown in growth and profits. Despite easing rates, banks are cautious in extending loans until sanity and confidence return to the market after the upcoming elections, as they fear getting their hands burnt once again. Meanwhile, for 1H19, NDB reported earnings of Rs.8.07 a share or Rs.1.79 billion, down from earnings of Rs.12.76 a share or Rs.2.27 billion reported for the corresponding period in 2018. The net interest income was Rs.8.78 billion, up 27 percent YoY.

The provisions against individual customers hit almost Rs.2 billion for the first six months, up from Rs.749 million a year ago.

The bank had Rs.490.2 billion assets as of June 30, slightly below the systematically important bank status, which demands elevated capital ratios.

The government has nearly a 34 percent stake in NDB through the Employees' Provident Fund, Bank of Ceylon, Sri Lanka Insurance Corporation and the Employees' Trust Fund Board.