---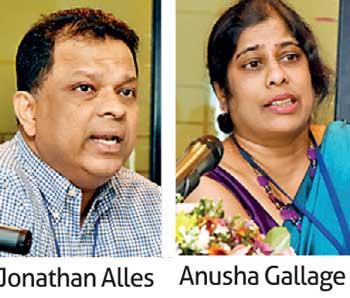 By Nishel Fernando
Hatton National Bank (HNB), Sri Lanka's second largest private lender by assets recently called on the government to re-evaluate the "unsustainable" high tax regime on the banking sector as it limits the sector's ability to support other industries, which in turn adversely impacts the economic growth of the country.
"Sri Lanka has one of the highest taxed banking sectors in the world. This is not sustainable for an industry that needs to support other industries to keep the economy going.

"What we hope is that sooner than later, there will be a realization that when money is kept within the banking industry as capital, it enables not just the banking industry, but all industries and the national economy as a whole to grow over 10 times," HNB Managing Director/CEO, Jonathan Alles said.He was speaking at an investor forum held at HNB headquarters in Colombo last Thursday. He asserted that Sri Lanka needs strong banks that are able to support the rest of the economy.

"When those funds are instead taken as tax and put into some expense item, that is the end of it. That is the reality. We need to have strong banks that are able to support the rest of the economy," he stressed. The government has imposed several new taxes on the banking sector through the new Inland Revenue Act including the Debt Repayment Levy. Alles noted that these taxes have a significant impact on the profitability, resulting in significant capital erosion in the industry at a time when the more stringent Basel III regulations requiring more capital, is being rolled out. He pointed out that the banks were only able to continue to post profits driven by reductions in cost-income ratios whereas the government could also replicate such practices to reduce the wastage. "When we consider those who run at a deficit, perhaps there is something to be learned from how we in the banking sector approach financial management. Rather than taxing, they should look at the good things that we have done in reducing our costs and improving efficiency and then learn and adopt those strategies," he elaborated.

In addition, the banking sector also faced high borrowing costs while investments being impaired due to the political crisis occurred at the end of last year, which resulted in a ratings downgrade on sovereign bonds and Sri Lanka Development Bonds.HNB Chief Financial Officer, Anusha Gallage said that there was an estimated impact of approximately Rs. 500 million directly to HNB due to the ratings downgrade on sovereign bonds and Sri Lanka Development Bonds. Further, HNB also saw more pressure on profits and capital as the banks were required to adopt the International Financial Reporting Standard (IFRS) 9 standards last year which substantially increased the impairment provisions on the loans.Gallage estimated that the total impact on HNB was approximately Rs. 1.2 billion, combined with the impact of the political crisis. Pic by Nimalasiri Edirisinghe