---
Hemas Holdings PLC showed signs of recovery across its business segments in the second quarter (2Q20) from the aftershock it felt during the first quarter from the Easter Sunday attacks, but its bottom line reached nowhere near pre-attack era levels.

Hemas Holdings, a diversified conglomerate which has interest in consumer goods, healthcare, leisure and logistics and maritime sectors, reported revenue of Rs.15.7 billion for the three months ended in September 30, 2019, down 4.7 percent year-on-year (YoY).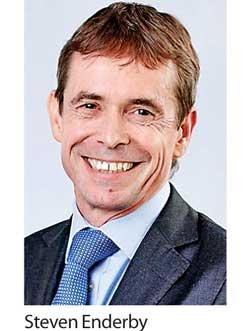 Hemas Group CEO Steven Enderby said its consumer business witnessed a steady recovery following the subdued performance in the first quarter amid a general economic slowdown and adverse impact from the Easter attacks in April.

"Our monthly revenue from this segment returned to prior year levels by the end of Q2, and we reported a quarter-on-quarter growth in operating profit and earnings of Rs.598.6 million and Rs.346.4 million respectively for the three-month period in consideration," Enderby said in an earnings release.

Consumer businesses similar to that of Hemas suffered a heavy blow in the immediate aftermath of the Easter attacks but are now recovering, though slowly.
Fast moving consumer goods, which are categorized as part of consumer staples, are less susceptible to the economic cycles compared to discretionary consumer goods.

Despite revenues showing some recovery, the group operating profit fell by 54.9 percent YoY to Rs.681.8 million as it spent heavily on promotional activities further strengthening the Hemas brand.

When going gets tough, businesses typically spent more on promotional and advertising to defend its ground.

Hemas Holdings reported earnings of 35 cents a share or Rs. 207.1 million for the July – September quarter compared to Rs.1.55 a share or Rs.926.7 million reported for the corresponding period last year.

For the six months ended September 30, Hemas Holdings reported a loss of 37 cents a share or Rs.218.8 million compared to a net profit of Rs.1.48 billion reported for the same period last year.

The revenue for the period was Rs.28.9 billion, down 3.6 percent YoY.

Earnings were also impacted by the loss on the disposal of Rs.114.2 million recognized from the divestment of the 100 percent stake in N*able (Pvt) Limited, Hemas' technology solutions company in July for Rs.450 million.

But the full negative impact from the disposal on the group income statement was Rs.230 million.

The total negative impact from the N*able sale and the adoption of SLFRS 16 on leases was Rs.566 million.

Meanwhile, the group's healthcare sector revenue for the first half of the year stood at Rs.14.5 billion, down 8.3 percent YoY whilst operating profit and earnings fell by 3.8 percent and 8.5 percent respectively, due to declines at Morison and Hemas Hospitals during the first quarter.

"The sector witnessed a significant recovery during the second quarter with revenues reporting a YoY growth of 9.0 percent and operating profit growth of 16.3 percent over last year," Enderby said.

Meanwhile, the performance of hospitality and travel business of the group declined sharply with revenue down to Rs.399.5 million compared to last year.

Although tourist arrivals picked up moderately during the period from July to September compared to the previous quarter, arrivals were still 35 percent lower than last year.

The group's logistics and maritime business recorded a revenue decline of 16.4 percent YoY to Rs.1.2 billion in the first six months.

"This is mainly attributable to delays in the new Spectra distribution centre ramp-up plans. Additionally, the segment profitability is impacted by the increased depreciation and finance costs resulting from the new facility," Enderby said.