---
Records lower profits for 4Q18; but revenue up
Atlas acquisition, other new investments drag on profits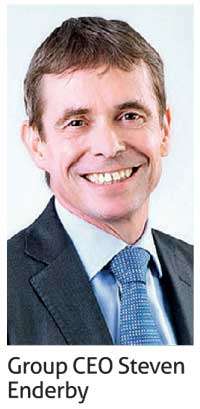 Higher inflation and lower disposable incomes have hit the core consumer business of Hemas Holdings PLC while the recent investment in Atlas Axillia and other business expansions in both home and abroad are weighing on the group's overall business performance.

Releasing the interim financial accounts for the quarter ended March (4Q18), the diversified conglomerate reported earnings of Rs.1.02 a share or Rs.585.3 million in total earnings compared to Rs.1.89 a share or Rs.1.1 billion reported for the corresponding period, last year.

The group revenue grew by 33.2 percent year-on-year (YoY) to Rs.15.3 billion. But the operating profit declined by 12.4 percent YoY to
Rs.1.3 billion.

Hemas share closed Rs.1.00 or 0.8 percent down at Rs.124 at Friday's close.

Meanwhile, for the year ended March 31, 2018, Hemas Holdings reported earnings of Rs.4.68 a share or Rs.2.69 billion compared to Rs.6.10 a share or Rs.3.49 billion in the previous year.
Full year revenue stood at Rs. 50.9 billion, up 17 percent YoY while the operating profit declined 11.3 percent YoY to Rs.4.25 billion.

In an earnings release, Hemas Group CEO Steven Enderby said the operating profit and earnings for the full year remained flat when adjusted for the Atlas acquisition, other investments on business expansion and asset disposals while the revenue growth moderated to 14.9 percent.
In January Hemas Holdings acquired 75.1 percent in Atlas Axillia Company, Sri Lanka's largest stationary manufacturer, for Rs.5.7 billion.

"The seasonal nature of this business (Atlas) with 4Q of the financial year being a "low season coupled with the loss of interest income from rights issue proceeds and other cash reserves used to fund the acquisition have impacted our performance.

"We have also had an increased tax charge resulting from higher dividend tax as we have up streamed dividends in part to finance the acquisition", Enderby said.
The Atlas acquisition has therefore decreased the group's operating profit by Rs.197 million and the earnings by Rs.295.1 million, the company estimated.

Meanwhile, the group has also commenced home & personal care (HPC) operations in West Bengal, India, and invested in digital health startups and a major profit improvement project for the HPC business.

The group estimated the negative impact of these investments on the operating profit for the year at Rs.397.9 million.

The group's HPC business in Bangladesh experienced a challenging year as it restructured its sales and distribution network during the first half of the year, which had a negative impact on sales growth and profits.

The overall HPC business revenue, both home and abroad including Atlas, was Rs.17.4 billion for the year compared to Rs.16 billion in the previous year. The operating profit for the period fell sharply to Rs.1.4 billion from Rs.2.1 billion.

Group's healthcare business upped both its revenue and profit during the year and so did the logistics business.

"Our hospitals have shown good performance with higher occupancy levels and increased focus on surgeries contributing towards a revenue growth of 16.4 percent. We also see improved contributions from our laboratory network of 34 diagnostic centres across the country,"Enderby said.

But the pharmaceutical business' operating margins came under pressure due to price controls.

Overall healthcare sector operating profits rose to Rs.2.3 billion from Rs.2.1 billion.

Hemas logistics and maritime sector recorded a revenue of Rs.2.8 billion. During the year, Spectra, the group's logistics joint venture with GAC and McLarens has shown improved results, mainly driven by the 3PL operations.

Spectra expanded operations with a new container yard in the Muthurajawela Industrial Zone on January 22, 2018. Construction of the new warehousing complex is on track to be completed in early FY19, the company said.

Meanwhile the group's leisure, travel and aviation sector recorded revenues of Rs.4.2 billion, slightly down from Rs.4.3 billion and the operating profit was Rs.263.2 million, down from Rs.502.8 million.

This was due to poor performance in the inbound travel arm primarily caused by a contraction of its Asian market segment and compounded by a decrease in arrivals during the summer, the company said.

The Esufally family has a 61 percent stake in Hemas through various investment vehicles while Norges Bank, Norways giant wealth fund operating under its Central Bank, has 2.99 percent stake in the company.

Franklin Templeton Fund also has a 9.7 percent stake in Hemas.