---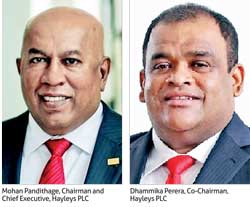 Hayleys PLC and its subsidiaries announced the purchase of 61.73 percent of shares of Singer (Sri Lanka) PLC, for a consideration of Rs. 10.9 billion, making it the single largest acquisition for a listed company in Sri Lanka in recent times.

This strategic acquisition by Hayleys PLC and its subsidiaries is anticipated to yield substantial opportunities for new business synergies within the Hayleys group. Both Hayleys PLC and Singer (Sri Lanka ) PLC collectively account for over 280 years of experience in the Sri Lankan market.

Commenting on the transaction Mohan Pandithage, Chairman and Chief Executive, Hayleys PLC stated, "This is a historic milestone for the Hayleys group. It is in alignment with our group's growth-oriented approach to the Sri Lankan market, as we have been seeking a strategic partner to strengthen the group's retail sector. Leveraging on the diversity of the Hayleys' products and services portfolio and combining it with the time-tested and extensive expertise of Singer Sri Lanka, we anticipate unprecedented new business opportunities for both entities moving forward."

Elaborating further he added, "It is the vision of Hayleys to offer enhanced lifestyles to Sri Lankans, with extensive ranges of innovative, high quality lifestyle products which are affordable to all segments of society. The diversity of our products and services portfolio will now be driven to greater heights, opening doors to new business opportunities for both entities moving forward. We will leverage Singer Sri Lanka's brand and extensive retail network, with its strong customer base to pave the way for significant upscaling of the group's domestic retail sector presence.

Dhammika Perera, Co-Chairman, Hayleys PLC, stated, "This acquisition is no doubt the biggest in Sri Lanka. Given the strength of Singer Sri Lanka, one of the most iconic and trusted retail brands in the country, we believe that with this move, the Hayleys group will be able to leverage and amalgamate the expertise and know-how of two corporate giants and boost the group's growth trajectory."

Hayleys, the largest Sri Lankan conglomerate nearing its 140th year, has a global presence in 15 countries across all 5 continents. It is the most diversified conglomerate in the country. This acquisition creates a total of 16 Public Listed Companies under the Hayleys group umbrella.
Established in 1878, Hayleys PLC is one of Sri Lanka's largest, multinational business conglomerates driving a globally competitive business portfolio cutting across manufacturing, agriculture and services.
The group is internationally recognized as a leader in innovation and currently operates manufacturing and service facilities in Sri Lanka, Indonesia, Myanmar, Maldives, Thailand, Bangladesh and Singapore. Its Marketing facilities are located in Australia, India, Malaysia, Italy, Japan, The Netherlands, UK and USA. The group accounts for approximately 3.53 percent of Sri Lanka's export income, and 3.4 percent of tea and 3.8 percent of rubber production. It is one of the leading foreign exchange earners of the country, and sources 95 percent of its raw material manufacturing requirement locally, while providing employment to over 28,000 employees.

The Board of Directors of Hayleys PLC comprises Messrs Mohan Pandithage (Chairman and Chief Executive), Dhammika Perera (Co-Chairman), Rizvi Zaheed, Sarath Ganegoda, Rajitha Kariyawasan, Dr. Harsha Cabral PC, Dr. Mahesha Ranasoma, Lalin Samarawickrama, Ruwan Waidyaratne, Hisham Jamaldeen , Aravinda Perera and Noel Joseph.