---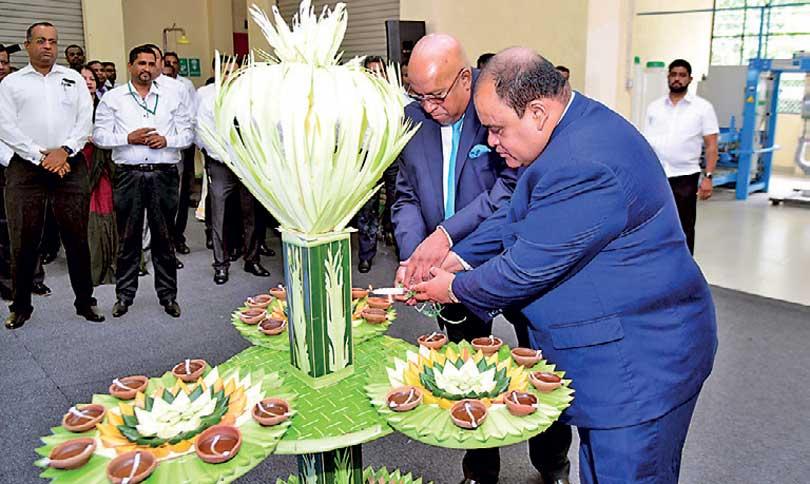 From left: Hayleys PLC Chairman/CEO Mohan Pandithage and Hayleys PLC Co- Chairman Dhammika Perera lighting the oil lamp at the opening ceremony
Targets lucrative domestic bedding material market and potential exports
Utilizes state-of-the art German and other advanced technology
Sri Lankans purchase over 1.6mn mattresses every year

Sri Lanka's most diversified conglomerate, Hayleys PLC this week announced the commissioning of its first polyurethane (PU) foam mattress manufacturing facility as part of a continuing effort to capture a larger share of domestic and potential export business.

Funded by a Rs.225 million investment from Eco Solutions group, the new facility will feature state-of the-art German and other technology, enabling to cater larger market share.
"Today, it is estimated that Sri Lankans purchase over 1.6 million mattresses every year, of which 80 percent are foam mattresses. As a company that has produced the best bedding materials in the island for the past 15 years, we see great potential for this bold new expansion in our business, both in terms of fulfilling local demand, and substituting imports as well," Hayleys Eco Solutions Managing Director Rajitha Kariyawasan said.

The most recent market research indicates that presently there are three main types of mattresses which are popular in the domestic market—foam, coir and spring.

While foam mattresses lead the market, coir accounts for 11 percent of the market share, and spring mattresses 3 percent.

Notably, Hayleys has the manufacturing capability to cater to all three main types of mattresses utilizing state-of-the-art manufacturing facilities and stands firm as Sri Lanka's established leader in the production of superior coir mattress utilizing Japanese technology to fulfil the needs of the domestic market.
The company manufactures a range of coir mattresses for a comfortable night's sleep while ensuring maximum posture comfort. The all natural orthopaedic mattress remains the most popular in the domestic market for relieving back pain. Hayleys also produces a range of spring mattresses for the upmarket segment covering hospitality sectors, middle and upper income category. Most recently the company introduced a special spring mattress with superior comfort at an affordable price.

With new addition of PU foam manufacturing, Hayleys now has the capability to introduce innovative product range to the bedding market in the near future comprising of multi-layered mattresses primarily comprised of foam-based bedding materials, used in conjunction with other bedding materials.

PU foam enables distinctive advantages in terms of providing a soft but firm sleeping surface that temporary moulds itself to the contours of a sleeper's body, enabling improved orthopaedic support, even weight distribution and a soft touch.

Hayleys' Eco Solutions sector is Sri Lanka's leading manufacturer and exporter of value added coconut fibre products as brushware, floor coverings, erosion control/ bio engineering products, rubberized coir pads and mattresses.

Reputed globally for its innovative and tailor-made solutions, the sector manufactures and distributes more than 105 products locally and internationally. We serve the needs of diverse customers including reputed retailers and DIY outlets across all continents of the globe.