---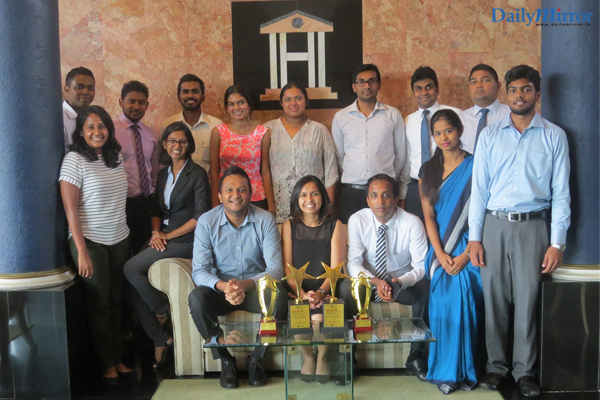 Hayleys Advantis was recognized as one of Asia's Top Employer Brands at the World HRD Congress' Best Employer Brand Awards 2017 which was held recently in Singapore. The company was selected based on their leadership which exhibits a visionary approach, inspiring and engaging staff, commitment towards a sustainable tomorrow, and the future orientation of the organization. Hayleys Advantis also won the coveted Talent Management award for their practices involving consistent talent development.
Commenting on the win, theManaging Director of Hayleys Advantis Limited, Ruwan Waidyaratnesaid, "It is an honour to be recognized at this prestigious forum for our unique way of doing business that includes cultivating a strong internal culture that prioritizes employee satisfaction and ensures it through exceptional talent development programmes and a happy work environment. This belief is built on our understanding that our employees are our brand ambassadors as they are usually our customers' first point of contact with our brand. Therefore, only happy employees can make happy customers and this award is further validation of this belief."
Hayleys Advantis' employee development plan identifies, develops and retains top talent in line with the company's overall business strategy. One such signature talent development program is Centurion which identifies leadership qualities of people within the organization and exposes those individuals to a rigorous development plan that includes theoretical as well as practical project-based learning. High flyers of this program are in line to become successors of critical positions thus ensuring a sustainable future for the company.
"As we move towards the digital age it is important to remember that a company's greatest asset, is its people. At Hayleys Advantis we believe that the strength of our brand is reflected in the strength of our people and to this end we strive towards creating a happy and healthy working environment that allows them to reach their optimal performance level. In a time that companies are agonizing to become digital, we spend a similar effort in maintaining human bonds in a digital world," said Thusharie Wijemanna, General Manager - Human Resource Management at Hayleys Advantis.
She went on to add, "In a competitive industry like ours, retaining talent is no easy task. However we have managed to do this due to the unique culture we have at Advantis. Our culture is built on a strong foundation, which has helped us become one of the most sought after employers in the industry."

Over the years, Hayleys Advantishas partnered with local and international educational institutes to offer internships and career guidance programmes. The company also runs a capacity building programme titled "Inspiring Logistics in Sri Lanka", together with the local universities that offer logistics studies, with the aim of guiding the next generation of skilled logisticians. The purpose of these initiatives is to create more awareness about logistics as a profession and build the profile of a logistician which would entice the youngergenerations to take up logistics as a career path.
Asia's Best Employer Brand Awards feature the top organizations from within the region who are exemplary in HRM and use marketing communications effectively for the development of human resources. Companies are assessed on their ability to combine vision with action and integrate HR strategy with business objectives with the aim of developing a sustainable culture which promotes growth.
Hayleys Advantis is Sri Lanka's most diversified transportation and logistics provider with over five decades of experience and operations spread across the Asian region. Backed by the blue chip conglomerate Hayleys PLC, Advantis is at the forefront of the logistics industry providing end-to-end solutions covering air, land and sea. It is committed towards being an innovator in the industry, setting the pace and shaping the logistics category.