---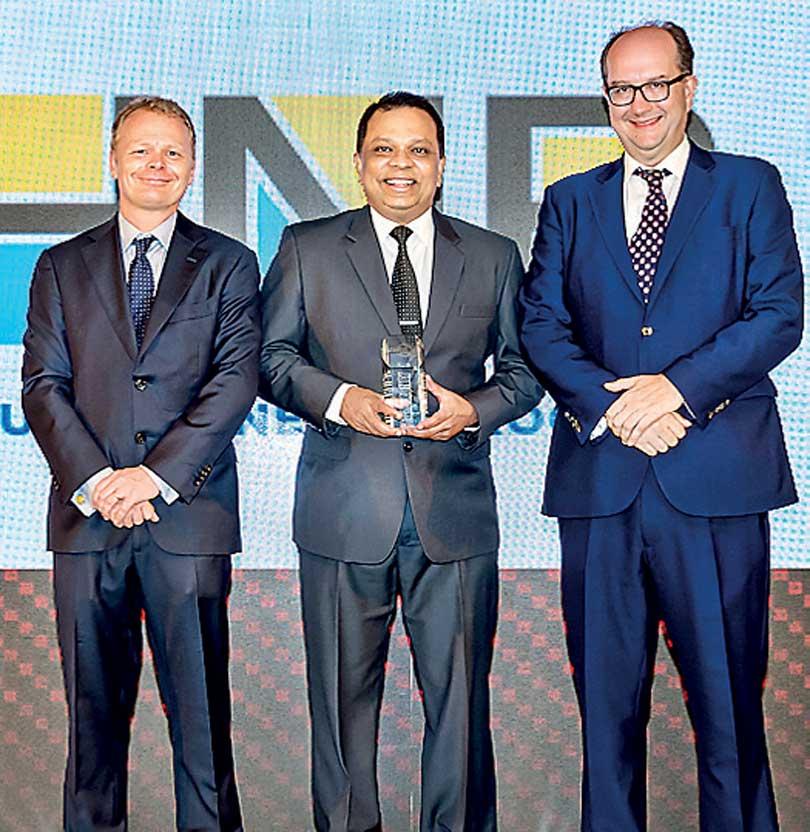 Jonathan Alles, Managing Director/CEO, HNB with the Award. Also in the picture from left; Clive Horwood - Editor Euromoney and Chris Wright - Asia Editor Euromoney
Declared Sri Lanka's Best Bank for 2019 at Euromoney Magazine for the third time
Declared Best Managed Bank in Sri Lanka by Asian Banker Magazine
Hatton National Bank PLC (HNB) continued to garner sweeping acclaim for its transformational approach to banking, bringing home a trio of high profile awards including being declared the Best Bank in Sri Lanka for 2019 for the third time by Euromoney Magazine.

Rounding out its remarkable achievements, HNB was also presented with the award for 'Best Managed Bank in Sri Lanka' by the Asian Banker Magazine, further cementing HNB's status an industry leader in innovation and service excellence while HNB Managing Director/CEO, Jonathan Alles was also conferred with the CEO Leadership Achievement Award at the same event.
The Asian Banker Magazine CEO Leadership Achievement and Best Managed Bank Award carries particular significance given that both awards are only given out every three years, while the Euromoney Best Bank Award remains among the most coveted prizes presented only to those at the very pinnacle of the industry.

"It is a true honor for HNB to have received such resounding acclaim on such a prestigious global platform. I would like to extend my heartfelt gratitude to the entire Hatna Family for their unwavering commitment and support in executing our vision of a digitally vibrant, customer-centric, future-ready bank. Our emergence at the forefront of the Sri Lankan banking industry speaks to the underlying strength of our vision to create a new paradigm in banking for our nation, and we look forward to even greater transformation in the years to come," HNB Managing Director/CEO, Jonathan Alles stated.

Notably, the personal award conferred upon Alles was in recognition of numerous achievements and milestones achieved by HNB during the period from January 2016 to December 2018 – the timeframe just following the unveiling the ambitious HNB Vision 2020.

In the following years, HNB has undergone a remarkable transformation, commencing firstly with substantial investments towards the comprehensive digitization and automation of key back-office functions, and followed by the establishment of centralized debt collection and document processing.

With these technological foundations in place, HNB commenced the roll out of a series of unique technologically-enabled products and services such as HNB SOLO, the bank's proprietary mobile wallet, and HNB FIT Savings Account – Asia's first fitness-linked savings product.

Significant resources have also been channeled towards familiarizing Sri Lankans from all walks of life with the power and potential of digital banking services. At the school level, HNB has developed specialized Smart Pay cards that can be used by students for pre-authorized payments as well as a ID card that enables digital attendance taking.

Similarly, the bank also works to introduce its SME customer base- which is among the largest in Sri Lanka – to digital, online and mobile payment solutions, in addition to Enterprise Resource Planning and business intelligence enabled by analytics, which when combined with the bank's extensive partner and social networks, is leading to a grassroots economic rejuvenation across Sri Lanka.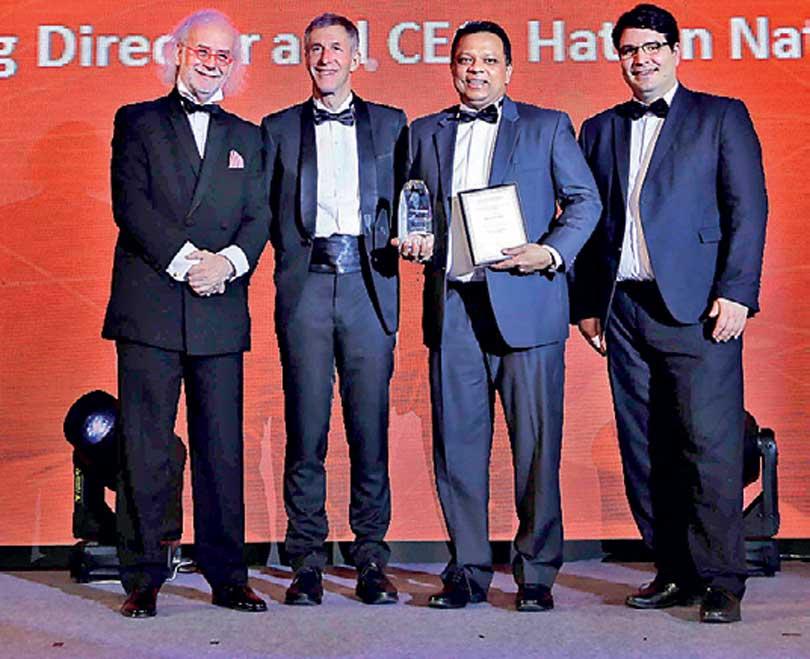 Jonathan Alles, Managing Director/CEO, HNB with the Award. Also in the picture from left, Gordian Gaeta, International Resource Director, The Asian Banker, Greg Kidd, Co-Founder & CEO, GlobaliD and David Gyori, International Resource Director, The Asian Banker