---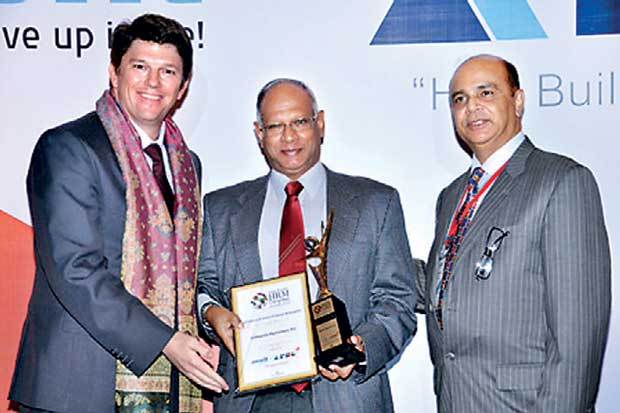 Dr. Dan Seevaratnam receives the award
Respected industry professional, Dr. Dan Seevaratnam, scored a hat-trick of 'Lifetime Achievement' awards, the most recent one being the prestigious 'Lifetime Service Award' by the Sri Lanka Tea Board, at the National Tea Awards held in celebration of 150 years of excellence of Ceylon Tea.

The other two such awards were the Lifetime Achievement by Asia Pacific HRM Congress and IPM Lifetime Gold Award by the Institute of Personnel Management, Sri Lanka.

These three significant accolades for the plantation industry legend denotes the outstanding contribution and over 47 years of dedicated service that Dr. Seevaratnam has invested in Sri Lanka's plantation sector.

Leaving behind a lasting legacy, Dr. Seevaratnam was singled out for his inspirational leadership that has greatly impacted the tea industry in particular. Widely acclaimed as the chief architect in the turnaround of public quoted regional plantation companies (RPCs) such as Maskeliya Plantations, Namunukula Plantations and Kahawatte Plantations, Dr. Seevaratnam was admired for innovation and ideas that changed the plantation industry landscape.

"It's a great privilege to receive an award from an industry that I have been involved in for almost 47 years, said Dr. Seevaratnam, who added that he was thankful and humbled by the gesture of recognition by his peers.

Dr. Seevaratnam is a Fellow of the National Institute of Plantation Management and a Fellow Member of the Australian Institute of Management. He was conferred the Degree of Doctor of Science by the Wayamba University of Sri Lanka.

Among a host of awards, he was also the recipient of the Global 'CEO of the Year' award at the Global HR Excellence Awards held in Mumbai in February 2013 plus recipient of 'The Trinity Prize' for outstanding National Contribution to Plantation Agriculture.

He retired from Watawala Plantations in 2015, having served as its Director/CEO.