---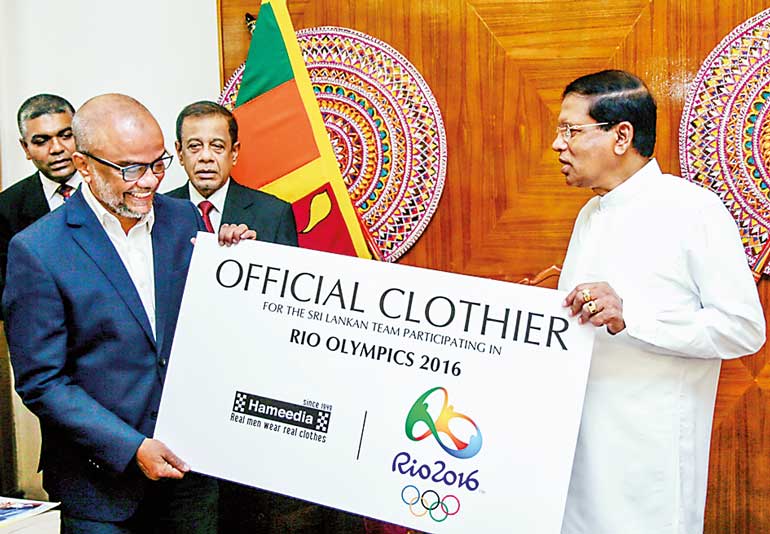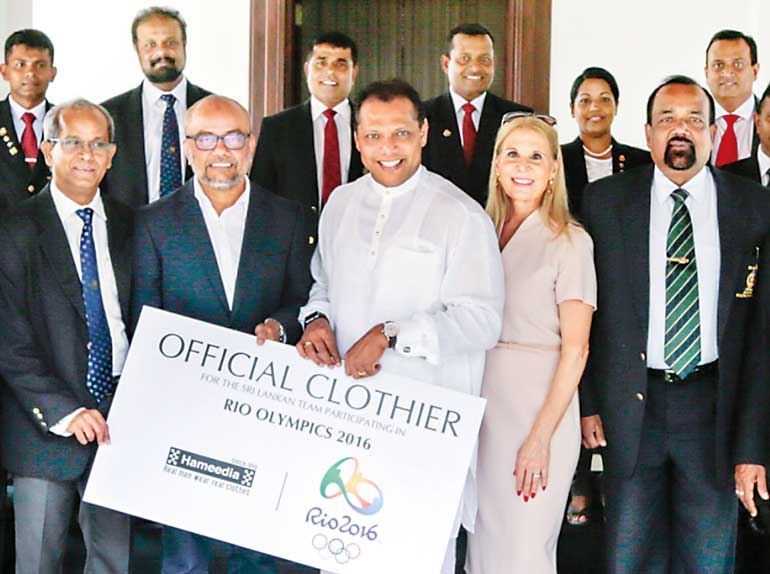 Hameedia Managing Director Fouzul Hameed with Sports Minister Dayasiri Jayasekera
Hameedia Sri Lanka, a trendsetter in the retail industry, has been chosen as the official outfitters for Team Sri Lanka at the 2016 Olympic Games, which will be held in Rio de Janeiro.

Hameedia joined a league of big-name designers and brands when the Sri Lankan Olympians march out at Maracana
Stadium yesterday.

"We're delighted to be the Official Clothing Sponsor of the Sri Lankan Olympic team," said Hameedia Managing Director Fouzul Hameed. "Every member of the team is a brand ambassador for Sri Lanka. They represent their motherland both as individual athletes and as a team. When they march out at the stadium for that glittering opening ceremony which will be watched by millions around the world, we want them to feel a deep sense of pride and know that we are truly proud of each one of them."

When the Rio Olympics kick off viewers won't just be tuning in to watch the games, but they'll also get a front-row seat to a global fashion show which starts with the first footfalls of the opening ceremony. Among them are Stella McCartney, who has partnered with Adidas to create the look of Team Great Britain, Giorgio Armani, is to outfit Italy's athletes, Lacoste's will give the French Olympic team a dash of panache and Polo Ralph Lauren, will be serving as the official outfitter of Team USA for the fifth time.

"We are pleased to have Hameedia onboard with us as the official outfitters. We've seen how devoted and involved they were with similar events. Fouzul Hameed understands the scope of the work and knows how to attire a team," said Maxwell de Silva, Secretary General of the Sri Lanka Olympic Committee. "Our partnership with Hameedia will be for the long run. We are looking at working closely for the next three to four years to come."
As a start, Hameedia will design and attire the official uniform for nine athletes and 14 officials from the Sri Lankan contingent who will be present at the opening ceremony. "The most important aspect of their outfit is the flag they wear. They carry our nation forward and Hameedia is elated to be part of this journey with them until they return home," said Fouzul Hameed.

Hameedia has an illustrious reputation for having dressed several national athletes and notably the Sri Lanka National Cricket Team which it has sponsored since 1996 to date.
Established in 1949, a year after Ceylon gained Independence, Hameedia has grown to become a household brand in Sri Lanka. Renowned for high-quality, custom tailoring and ready-made clothes for men, the Hameedia multi-brand retail stores house a collection of quality menswear brands including Le Bond, Envoy, Signature, Raymond, Lee and adidas to name a few.

Hameedia also prides itself on offering exceptional standards of service to ensure that clients enjoy a positive and personalised experience at each store. With a network of over 30 outlets across Sri Lanka and a team of over 1000 employees, Hameedia has a strong local presence and has also expanded globally with outlets in the Maldives and Australia.