---
The Hongkong and Shanghai Banking Corporation (HSBC) will kick start 2018 with a 'Power Breakfast' for its corporate clients in the form of a discussion forum dedicated to the global currency outlook for the year ahead.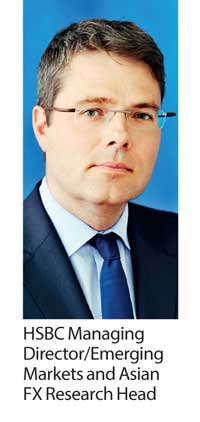 The event, hosted by HSBC, will take place on January 25, at Shangri-La Colombo and will feature HSBC Managing Director/Emerging Markets and Asian FX Research Head Paul Mackel as the guest speaker.

The keynote speech will be delivered by Central Bank Governor Dr. Indrajit Coomaraswamy.
"The broad topic for the event will be the global FX outlook, especially in relation to major and Asian currencies. We are well aware about how the exchange rate volatility affects geopolitical risk and global trade in general. Our clients' exposures to volatility in the global FX market will also be a point of interest, especially given our dependency on exports. We're looking forward to hearing Paul's interesting insights into the global currency outlook," commented HSBC Sri Lanka and the Maldives Global Markets Head Garvin Van Dort.

Mackel leads HSBC's Emerging Market and Asian FX research team in Hong Kong, which ranks high in investor surveys and is regarded for its comprehensive analysis of EM currencies.

Mackel joined HSBC in June 2006 and has been a currency analyst since 2000. Prior to joining HSBC, he worked in similar roles for other financial institutions in London and Frankfurt, covering major and Central European currencies.