---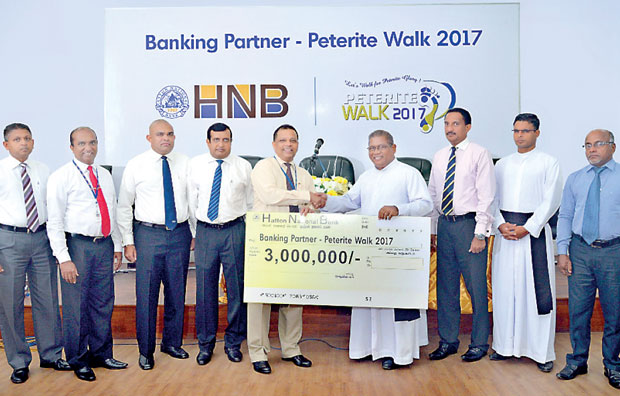 Continuing its long-standing relationship with St. Peter's College, Colombo 4, Sri Lanka's premier private sector bank, HNB PLC announced that it would be joining in the school's 95th year celebrations, by serving as the Official Banking Partner to Peterite Walk 2017.
Taking place on July 1, 2017, the event is organised in order to raise funds for expansion and new facilities at St. Peter's College and is anticipated to draw in strong participation from students, parents and old boys of the school.
"HNB is honoured to partner St. Peter's College as they celebrate their 95th year. Serving as one of Sri Lanka's most respected halls of learning for generations, St. Peter's has produced many of Sri Lanka's great leaders in all spheres of life and we look forward to celebrating this legacy together," HNB Managing Director/CEO Jonathan Alles expressed.
"HNB's relationship with St. Peter's stretches back to 1995, when we opened one of our first Student Savings Units at the school premises.
Since that time, successive generations of students have benefitted from their HNB accounts, not only in establishing the savings habit from a young age but also for higher and tertiary education - laying the foundations for a stable and secure future," Alles stated.
He added that moving forward, HNB would continue to explore new opportunities to deepen their engagement with the school, with a particular focus on introducing new technology-enabled banking services to students, in order to help prepare them for the life in an increasingly technologically-oriented world.