---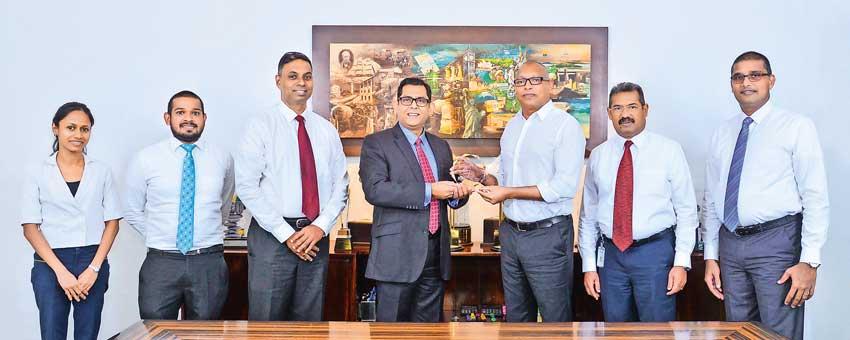 From left: HNB Relationship Manager Samindhi Kurukulasuriya, HNB Senior Manager Corporate Banking Manojith Weerasuriya, HNB Assistant General Manager Corporate Banking Majella Rodrigo, HNB Deputy General Manager Wholesale Group Banking Damith Pallewatte, Hayleys PLC Executive Director Sarath Ganegoda, Hayleys PLC Chief Financial Officer Choliya De Silva and Hayleys PLC Head of Group Treasury Malin Fernando
Partnering one of the nation's largest conglomerates, Sri Lanka's most innovative bank, HNB PLC yesterday announced the commencement of multiple long-term finance facilities totalling Rs.8.5 billion for Hayleys PLC and the group subsidiaries.

The agreement was facilitated by HNB's Corporate Banking Division, which is a key vertical within the bank's Wholesale Banking Group (WBG). Presently, the WBG manages the banking needs of the bulk of the largest blue-chip corporates and conglomerates in the country.

The signing up ceremony was attended by Hayleys PLC Group Executive Director Sarath Ganegoda, Hayleys Group Chief Financial Officer Choliya De Silva, Head of Group Treasury Malin Fernando, together with HNB Deputy General Manager Wholesale Banking Group Damith Pallewatte, HNB Assistant General Manager Corporate Banking Majella Rodrigo, HNB Senior Manager Corporate Banking Manojith Weerasuriya and HNB Relationship Manager Samindhi Kurukulasuriya.

HNB's WBG specialises in providing clients a range of products and services tailored to address long-term funding, working capital financing, trade, FX and structured finance requests, through collaboration with other Wholesale Banking divisions such as the bank's Payments and Cash Management, Custody and Trustee, Treasury and Trade Services divisions.
With 252 customer centres across the country, HNB is one of Sri Lanka's largest, most technologically innovative banks, having won local and global recognition for its efforts to drive forward a new paradigm in digital banking. HNB carries a long-term national rating of AA+ (lka) by Fitch Ratings (Lanka) Ltd.