---
By Chandeepa Wettasinghe
Hatton National Bank PLC, Sri Lanka's second largest private sector bank, will be comfortable expanding its loan book this year at similar levels to last year to meet its aggressive Vision 2020 plan, a key official of the bank said yesterday. "…this year again at a reasonable level. So not targeting 20 percent etcetera, but (with) a reasonable 17-18 percent, we would be comfortable," HNB Managing Director/CEO Johnathan Alles told an investor forum organized this week. He said that most of the growth is expected to come from housing loans, loans for education and specific purposes as well as through credit cards.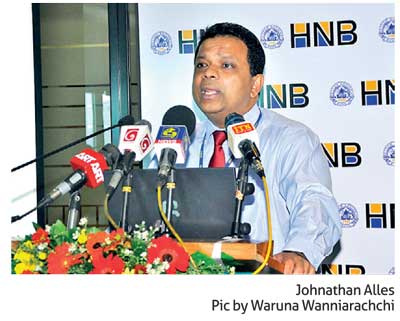 According to Alles, real estate comprises around 7-8 percent of HNB's total loan book, of which just 25 percent is in apartments, and housing credit for the bank had expanded around 15 percent in 2016.
The Central Bank recently expressed concern over a considerable amount of credit extended to the private sector in 2016 going to construction, and had said that it was remaining vigilant of a possible real estate bubble.
"We need to watch the risk, but we're currently satisfied," Alles said, when asked if the bank is worried about a possible housing bubble, which is a trending
tropic now.
He noted that middle-range apartments between Rs. 20-40 million are selling well, and that HNB has partnered with a handful of tried and tested corporate developers to sign tripartite agreements for apartments.
"We need to study a bit better before getting into the higher end," he said, and noted that most of such units are speculative buying betting on Sri Lanka's future growth.Meanwhile, Alles admitted that during the current high interest rate regime, HNB has lent to some applicants which it had rejected previously.
"There are controls in place stronger than ever before," he justified, and noted that HNB had yet rejected many, which was evident in its much lower 17.3 percent credit growth in 2016 compared to the rest of the industry.
He also said that dedicated aggressive loan recovery processes, the foreclosure of two corporate loans which claimed over half of the non-performing loans (NPL) and the outsourcing of recoveries of small scale loans, which had helped bring the bank's NPL ratio to 1.8 percent, would be further enhanced going forward to bring the NPL ratio below 1 percent.
Meanwhile, Alles said HNB's, as well as the industry's current and savings account (CASA) bases, which provide cheap funds, are facing pressures due to the high-interest environment, which HNB is attempting to address. "Lots of fixed deposits are coming in, and CASA is under threat. But many initiatives are there within corporate banking, SME and personal banking segments in order to drive CASA. It was a difficult year for the banking industry, but we hope that our initiatives will be successful in 2017," he said.
He noted that with the upcoming Basel III capital adequacy standards, combined with healthy credit growth would increase competition for CASA in the industry, which might increase the need for other funding options such as debentures.
Alles said that interest rates may rise in the short time, but fall in the medium term, and that HNB would be taking advantage of the high rates by investing in more government bonds, compared to the past.
A majority of HNB's non-core banking operations are focused on corporate debt and stocks. Alles said that the bank's plans are now being made under the Vision 2020 plan which was concocted mid-2016.
"Vision 2020 is quite aggressive, but we are quietly confident that the macroeconomic fundamentals, the GDP growth trajectory, and various investment opportunities will enable us and support the growth plans HNB has set for itself," he said.
HNB's macroeconomic assumptions are optimistic, with 5-6 percent GDP growth in 2017 and 2018, and 7-8 percent growth in 2019 and 2020, which it hopes would be achieved through fairly liberal
government policies.