---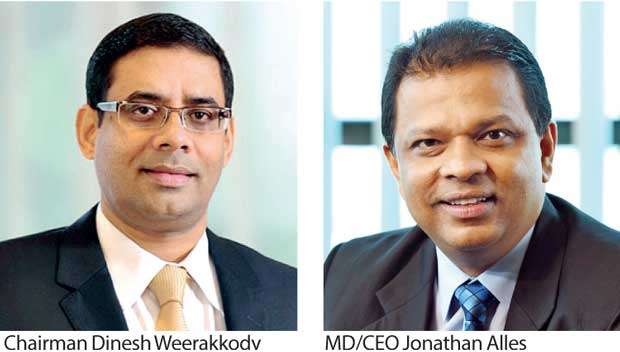 Backed by the strong growth in loans and operational efficiencies, Sri Lanka's second largest private sector lender in terms of assets, Hatton National Bank PLC (HNB), reported solid performance for its April-June quarter (2Q18), the interim financial accounts released to the Colombo Stock Exchange showed.

However, the banking group had to allocate hefty provisions for possible bad loans, as experienced by the entire banking industry, largely due to the depressed economic situation in the country.

The HNB group reported earnings of Rs.4.5 billion for the quarter under review, up from Rs.3.4 billion reported for the same period, last year. This translates into profit growth of 32 percent year-on-year. The earnings per share for the period improved to Rs.18.12, from Rs.15.87.

The net interest income for the period rose 14 percent YoY to Rs.12.8 billion, as the interest income rose 9 percent YoY to Rs.28.1 billion and the interest expenses increased at the lower pace of 5 percent YoY to Rs.15.3 billion.

The net fee and commission income rose by 6 percent YoY to Rs.2.4 billion.

The bank, which has an asset base of little over Rs.1 trillion, gave Rs.57 billion in new loans during the six months ended June 30, 2018 (1H18), which translates into a growth of 9 percent.

The bank attracted Rs.39.7 billion in deposits during 1H18, which is a 6 percent growth. The total deposits as at June 30 stood at Rs.741.2 billion.

However, the bank saw a drastic increase in provisions against bad loans. The total impairment charge for the 1H18 increased to Rs.1.9 billion, mainly due to the rise in collective impairments to Rs.1.6 billion, from Rs.854.5 million. The impairment cost on individually significant loans however declined by 42 percent YoY to Rs.342.3 million.

The gross non-performing advances ratio of the bank deteriorated to 2.91 percent, from 2.28 percent six months ago, albeit below the industry average of 3.3 percent.
HNB's Tier I capital ratio and total capital ratio remained strong at 12.48 percent and 15.22, respectively, well ahead of the required regulatory minimums of 8.875 percent and 12.875 percent.
The bank was also able to further improve its cost to income ratio—a key efficiency ratio— to 37.7 during 1H18 percent, compared to 41.4 percent reported for the corresponding period, last year.

Meanwhile, HNB saw its net profit for 1H18 improving 26 percent YoY to Rs.9.1 billion on a net interest income of Rs.24.9 billion, up 14 percent YoY.
The net fee and commission income rose 9 percent YoY to Rs.4.8 billion.

As at June 30, 2018, the government controlled a 25.12 percent stake in HNB through the Employees' Provident Fund, Sri Lanka Insurance Corporation Limited and National Savings Bank.

Harry Jayawardena-controlled Milford Exports Ceylon Limited, Stassen Exports Limited and Distilleries Company of Sri Lanka collectively held a 17.83 percent stake but the voting rights are limited to 10 percent.