---
Gets boost from strong core banking, fee incomes and derivative gains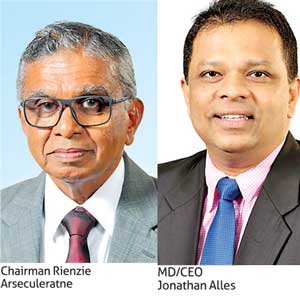 Sri Lanka's second largest private sector commercial bank by assets, Hatton National Bank PLC (HNB) group posted a net profit of Rs.3.3 billion, up 73 percent from a year ago, with an earnings per share of Rs.8.42 for the quarter ended March 31, 2016 (1Q16), the interim results showed. The bank's share closed 90 cents or 0.43 percent down at Rs.209 at yesterday's close. The performance was supported by strong core banking operations, fee-based incomes, lower provisions made for possible bad loans and notably the massive gains made on the bank's trading portfolio. The banking group has made a Rs.2 billion gain on its trading portfolio, which consisted of mainly foreign currencyrelated derivatives. This was in comparison to a Rs.57.4 million gain made during the same quarter last year.
In contrast, many commercial banks made losses on their trading portfolio in 1Q16 due to the spike in the government securities yield as the bulk of their gilt-edged securities were categorized under their trading portfolio. But HNB had a larger section of its investments in treasury bills and bonds under available-for-sale investments, of which the banking group made a thumping Rs.3.5 billion mark-to-market loss in the comprehensive section of the income statement. The foreign exchange losses have taken close to a Rs.1.5 billion hit on the group's 116 performance as its other operating income turned a loss from a profit of Rs.228.1 million made a year ago. The provisions made for possible bad loans were down to Rs.137 million in 1Q16 from Rs.588 million a year ago, demonstrating the improving credit quality. The gross nonperforming loan ratio has improved to 2.41 percent from 2.43 percent in December 2015. Meanwhile, the net interest income jumped by 22 percent year-on-year (YoY) to Rs.8.43 million, on the back of a slowing demand for credit and narrowing margins.
The gross loans and advances of the bank on a standalone basis grew by only 3 percent or Rs.15.3 billion to Rs.524.8 billion. The bank grew its loan book by over 25 percent or Rs.103 billion in FY15. The rising interest rates are also seen taking a toll on the bank's margins as the bank's net interest margin narrowed to 3.97 percent from 4.10 percent three months ago. The deposits grew by 0.65 percent or Rs.3.4 billion to Rs.530.5 billion. The low-cost deposits – current and savings accounts (CASA) – accounted for 43.5 percent of the total deposits, the bank said in a statement. The bank has a total asset base of Rs.760.1 billion, up 5 percent from December 2015.