---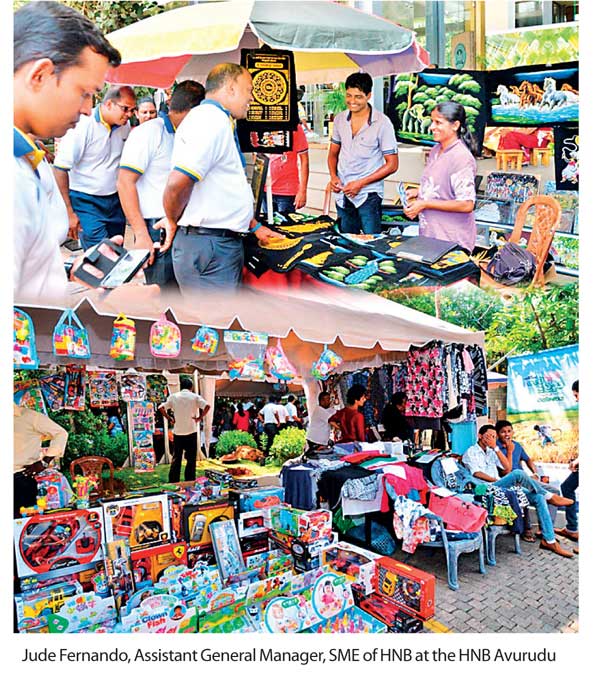 The Avurudu Pola 2016 organized by the Gami Pubuduwa micro finance programme of Hatton National Bank (HNB) will once again be held across Sri Lanka from 5th – 11th of April, in the period leading up to the Sinhala and Hindu New Year, creating new sales and market opportunities for micro entrepreneurs.

Jude Fernando, Assistant General Manager – SME – HNB, elaborated on the objectives behind the Avurudu Pola trade fairs.
The Avurudu Pola trade fairs are scheduled to be held from 5th – 11th of April in the cities of Kandy, Kalmunai, Kilinochchi, Embilipitiya, Dambulla, Kiribathgoda, Gampaha, Matara and Panadura. Over fifty stalls will be set up at each trade fair, dedicated to a wide range of products.
There will also be stalls which carry information on financial products & services. Through these trade fairs we create linkages between rural traders and the urban market, exposing their innovative and authentic products to a customer segment with disposable income. Some traders who are featured in the HNB Avurudu Pola are suppliers to exporters. Therefore, this initiative literally opens up a world of possibilities for them with their products being sold in overseas markets.
HNB Avurudu Pola goes beyond the traditional pola or market concept as we actively engage in the process of creating new opportunities for these entrepreneurs in order to encourage them and offer them sustainable long term benefits.

The trade fairs will be held at Kandy (City Centre) on 5th April , Kalmunai (Methodist Church premises) and Kilinochchi (Depot Junction Main Market premises) on 6th April, Embilipitiya (HNB customer centre premises) and Dambulla (HNB customer centre premises) on 7th April, Kiribathgoda (HNB customer centre premises), Gampaha (HNB customer centre premises) and Matara (Uyanwaththa Stadium) on 8th April and Panadura (Municipal Council Grounds) on 11th April.

The period leading up to the Sinhala and Hindu New Year has been chosen for this initiative in order to provide micro entrepreneurs an opportunity to enjoy financial strength and stability and enable them to celebrate the dawn of the New Year
in style.
Fernando went on to speak about Gami Pubuduwa, HNB's flagship micro finance scheme. "The Avurudu Pola is a key component of Gami Pubuduwa, which was launched 26 years ago, and through it we have empowered a large number of micro entrepreneurs and gradually uplifted them from the grassroots level to the SME level. Thereafter we have provided these entrepreneurs with the strength and knowledge to reach the corporate level. The rural sector has always been the strength of HNB.
It accounts for most of our customers and a majority of loans we give out. One major reason for the success of Gami Pubuduwa has been its focus on financial education and awareness, beyond being a traditional loan scheme. Workshops on proper financial management and financial discipline have been conducted islandwide under this scheme, where rural traders have been educated on the importance of reporting, auditing and other practices."

"HNB has by far the largest team of Field Officers among private banks in Sri Lanka. The team consists of 34 Agriculture Executives and 95 Gami Pubuduwa Upadeshakas. They have played a key role in the success of Gami Pubuduwa by successfully integrating themselves into the village community and acquiring first-hand knowledge and insight into the lives and activities of rural society. HNB also maintains close relations with many large corporates such as CIC Agri Business, Cargills Agri Business and Hayleys Agriculture, who deal with the rural farming and agriculture communities."