---
Earnings fall 15% to Rs.2.97bn
Loans contract 3%; deposits 1%
Impairments up 8% to Rs.2.4bn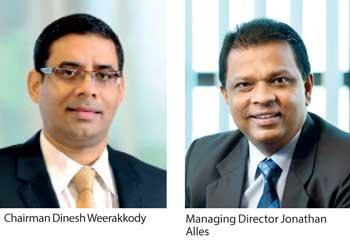 Hatton National Bank PLC (HNB), Sri Lanka's second largest private bank in terms of assets, saw depressed earnings for the quarter ended June 30, 2019 (2Q19) amid a contraction in loans, trading losses and higher loan loss provisions.

The banking group's bottom line was also hit by a new debt repayment levy of Rs.717 billion, which was non-existent in the corresponding quarter, last year.The HNB group's earnings fell to Rs.5.94 per share or Rs.2.97 billion for the quarter under review, from earnings of Rs.6.97 per share or Rs.3.48 billion reported for the same quarter, last year, which indicates a decline of 15 percent year-on-year (YoY).

The group's net interest income rose 14 percent YoY to Rs.14.6 billion, while the net fee and commission income edged up 2 percent YoY to Rs.2.4 billion.
The total operating income of the group during the quarter rose 9 percent YoY to Rs.19.2 billion.However, the banking group saw an 8 percent YoY increase in impairments to Rs.2.4 billion, which mitigated the gains made at the top line and at operating level.

HNB's gross NPL ratio rose to 4.59 percent as at June 30, 2019, from 2.78 percent in the beginning of the year indicating a deterioration in the asset quality.

Meanwhile, HNB's loan growth at bank level contracted 3 percent or by Rs.24.2 billion during the six months ended June 30, 2019 (1H19) from the beginning of the year, to Rs.724.8 billion.The total assets of HNB at bank and group levels edged down by one percent to Rs.1.07 trillion and Rs.1.14 trillion, respectively.

The deposits at bank level during the six months contracted one percent or by Rs.7.2 billion from the beginning of the year to Rs.792.7 billion.

The banking group's personal expenses during 2Q19 rose 12 percent YoY to Rs.3.8 billion.The group also reported a trading loss of Rs.1.49 billion during 2Q19, up 27 percent YoY.
"An appreciating rupee led to translation losses on foreign currency-denominated long positions and FCBU earnings; this being the main reason for the bank booking exchange losses of Rs.577.2 million during the first half.

In comparison, a substantial exchange gain of Rs.895.5 million was reported for the corresponding period ending June 2018," an HNB statement said.

For 1H19, the banking group reported earnings of Rs.9.59 a share or Rs.4.8 billion, down 34 percent from a year ago.

As at June 30, 2019, HNB had comfortable capital buffers.The government owns over 25 percent stake in HNB through the Employees' Provident Fund, Sri Lanka Insurance Corporation Limited and National Savings Bank. Harry Jayawardena-controlled Milford Exports Ceylon Limited, Stassen Exports Limited and Distilleries Company of Sri Lanka collectively has a 17.83 percent stake in the bank but their voting rights are limited to 10 percent.