---
Leading pump manufacturer Grundfos has announced the appointment of Kim Jensen to the role of Group Senior Vice President and Regional Managing Director of Grundfos Asia Pacific region with effect from January 1, 2018.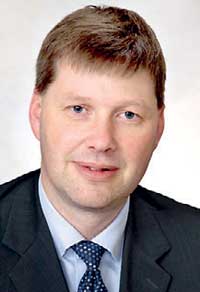 In his new role, Jensen will lead the company's business across 22 countries including 13 wholly-owned sales companies and local assembly plants Grundfos operates in the region. He will also be spearheading opportunities for the company's development and expansion in Asia Pacific.

Prior to his Asia Pacific role, Jensen was Group Senior Vice President and Regional Managing Director for the Europe, Middle East and Africa (EMEA) markets since 2015, where he oversaw 2,800 employees in areas of sales, marketing and customer service.

Jensen has been with Grundfos for more than 25 years, working across Europe and the Middle East. Having held numerous senior management positions within Grundfos, Jensen assumed the role of Group Senior Vice President in 2006, where he was in charge of developing Grundfos' global Water Utility business, after which he served the Central and Eastern Europe (CEREG) markets in 2010.
Grundfos Group Executive Vice President Sales, Marketing and Service Poul Due Jensen said, "I'm looking forward to working with Jensen to continue growing our business in the Asia Pacific. Over the years, Jensen has done a fantastic job leading his team and building a strong sales approach for the EMEA markets. We are excited to bring his extensive experience and deep understanding of managing businesses in dynamic markets to this growing region."

Jensen succeeds Okay Barutçu, who held the role since 2014 and will be moving to Dubai to take the role of Senior Vice President and Regional Managing Director of Grundfos East Europe, Western Asia and Africa (EEWAA) markets.

EEWAA is a newly defined sales region together with Western Europe (WEREG), which made up the original EMEA markets before the split effective January 1, 2018 to support Grundfos' global growth ambition.