---
Trying to clear the air surrounding the highly contentious East Container Terminal (ECT) matter, the government yesterday said it would never float its share of the terminal on any stock exchange, which could lead to potential dilution of ownership.

According to the Cabinet Spokesman and the Minister of Mass Media and Information Keheliya Rambukwella, the sole purpose of the envisaged deal structure is to retain the 51 percent stake of the joint venture with the government.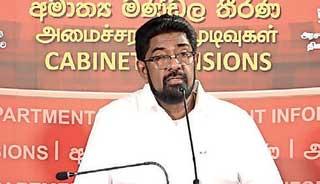 Keheliya Rambukwella
However, what could be listed on a stock exchange would be the balance 49 percent, proposed to be held by a consortium of investors led by India's Adani group.

"To my knowledge, what can be listed in the stock exchange is the 49 percent and not the 51 percent. The government will retain its share at all times," Minister Rambukwella stressed.
President Gotabaya Rajapaksa earlier this month made explicit the deal's ownership structure at a meeting held with the representatives of 23 Colombo Port trade unions.

However, trade unions and certain social groups, including Buddhist monks, are continuing to the voice their opposition to the proposed deal, which is delaying the development of the terminal.
Meanwhile, Rambukwella said the Cabinet of Ministers has not yet reached a final decision on the terminal, despite deal structure being made public.
"At present no decision has yet been taken either at the Cabinet level or at Parliament," he said.