---
By Nishel Fernando
National Agency for Public-Private Partnership Chairman Thilan Wijesinghe last week said the government may want to revisit the already enacted privatisation agreements, including that of Sri Lanka Telecom (SLT), as there were fundamental flaws in these agreements.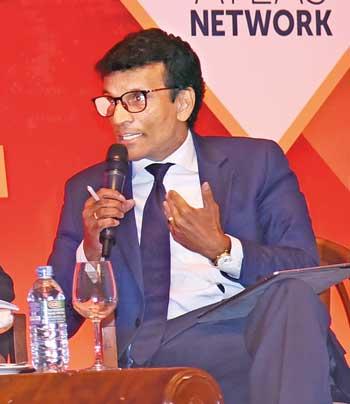 Thilan Wijesinghe
Pic by Samantha Perera

He stressed that there are serious flaws in these privatisation agreements, particularly with regard to the autonomy of their boards of directors.

"There are problems at board level. What's the right of the government to appoint a chairman to a firm, which is privately managed? I question the potential weaknesses of the privatisation drive that need to be revisited. There were fundamental flaws in the privatisation process," he told a panel discussion at the Asia Liberty Forum, held in Colombo, last week.

Wijesinghe in particular stressed that the weaknesses in the privatisation agreement of SLT need to be revisited in order to provide the full autonomy to its board of directors.

He noted that a renegotiated agreement would be crucial to resolve the critical issues faced by SLT, such as overstaffing.

He pointed out that the fundamental flaws in these agreements could be renegotiated similar to the renegotiation of the Colombo Port City project in 2015.