---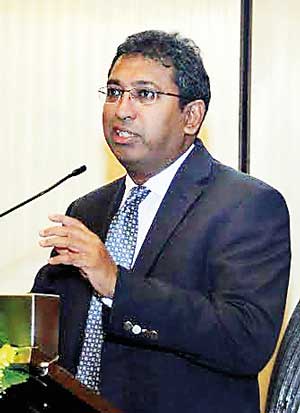 The Sri Lankan government r e m a i n s e x t r e m e l y determined entering into an advanced trade and services agreement with India, going beyond the present Free Trade Agreement (FTA), as they believe the country can never achieve a hub status without plugging itself to the massive Indian market.
Deputy Foreign Minister Dr.Harsha de Silva, who is also a trained economist, last week told a forum in Colombo that Sri Lanka can never aspire to become a hub without plugging itself into India and vowed his government would do exactly that in the near term. "What are we talking about being a hub if we can't trade with India? Where is the hub? What hub? That's nonsense," stressed de Silva, adding that the Lanka's economic prosperity hinges on close ties with India and the rest of the world. However, a section of the economists in the country have repeatedly pointed out that Sri Lanka had been in the losing side of the already available FTA with India amid record high trade balances in favuor of India.
Also the unwritten non-tariff barriers have largely undermined the spirit of the FTA, with Sri Lankan businesses being battered continuously. While the potential of the existing FTA still remains to be fully harnessed, the Sirisena- Wickremes inghe coal i t ion government seems to be in an absolute hurry to sign Economic and Technology Cooperative Agreement (ETCA) with India with provisions to import labour from India.
However Dr. de Silva assured the government was in no rush nor was opening flood gates for the Indian professionals to come and work in Sri Lanka but lashed out at those who are overdramatising the development to scuttle the well-intentioned trade and service pact. "And there are so much of lies that are being spread about ETCA—about opening doors for all professionals to come and take over their jobs. Who is saying these things? Damn lies.
There is nothing like that," said the Deputy Minister speaking at a forum organized by Shippers' Academy to discuss the impacts of the United Kingdom leaving European Union on Sri Lanka. Sri Lanka's professional groups, a section of the opposition law makers, businesses and academia however have cautioned the government of possible repercussions such an agreement could have on Sri Lanka notwithstanding only some selected sectors being liberalized. They have pointed out that as history had proven many a time, the dominant party, in this case India, always wins at the expense of the weaker parties. India's unemployment is over 22 million – larger than Sri Lanka's entire population—and the country's socio economic conditions still remain relatively low to that of Sri Lanka.
"There is no chance that we will open doors for doctors from India to come here and set up shop here or architects from India to come and set up shop here," Dr. de Silva said directing his remarks probably at the Government Medical Officers' Association (GMOA). The GMOA has been the most vociferous and active professional body in pointing out the possible dangers of the ETCA and has been at the forefront of rallying other parties to scuttle the trade pact. "We are not a bunch of loose heads. We are not. We understand what global trade means for Sri Lanka and we will do what is best for Sri Lanka.
So we are not rushing, we are taking calculated steps but let me tell you this government will go ahead and do what is right for the country and integrate this country with the rest of the world," stressed the Deputy Minister. Dr. de Silva, who at one moment became emotional on the matter said, he wouldn't even care being voted out for doing the right thing for the country – the signing of the ETCA with India – which he believed would yield benefits to future generations. "We want access to the Indian market. It may be at political risk. But I am willing to take that risk. I didn't come to politics only to do the things that get me votes. There is no point in doing that. I am sticking my neck out (and) I know it is a political risk.
People will tell me (that) I am a fool (and say) 'why don't you shut up and stay quiet?' I didn't come to politics to do that. If people vote for me, they (will) vote for me. If they don't want to vote for me, they will not vote for me. I will go and do something else. I have many other things to do. But as long as I am here, I will do what has to be done for the betterment of this country. What I do is right, what the Prime Minister believes is right. We have to integrate ourselves to the rest of the world. There is no future for this country, if we are unable to integrate with the world. If I can do that and get voted out, so be it. I don't care.
But the point is you can't choose only to do things that will give you votes my friend. You can't choose to do what is only populist. Then there is no point. You have to be able to do what is right. What is right may not be very popular right now but down the road people will say look, it was the right thing to do to integrate Sri Lanka with the rest of the world," he said.