---
Industrial Export, Investment Promotion, Tourism and Civil Aviation Minister Prasanna Ranatunga has instructed his ministry officials to expedite the resumption of flights and other operations at Mattala Rajapaksa International Airport.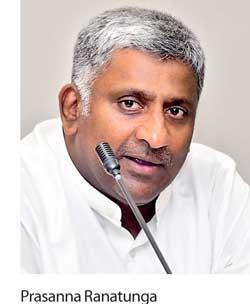 The minister has instructed the Airport and Aviation Services Authority to first resume the airline operations of SriLankan Airlines at the Mattala airport and in the meantime negotiate with other international airlines to bring their flights to Mattala.

Ranatunga has given these instructions at a meeting held with the airport authorities recently regarding the steps to be taken to make Mattala Rajapaksa International Airport an
operational airport.

Discussions were held at length regarding the concessions on airport service charges for airlines flying to Mattala and the minister has said that measures would be taken to obtain the Cabinet approval for such measures. It was also proposed to open an aircraft repair yard and training school adjacent to the Mattala airport and during a discussion with the minister, the SriLankan Airlines' Aviation Engineers Association had agreed to build and maintain the repair yard.

It was also decided at this meeting to re-implement the Hambantota Development Plan introduced under the previous Mahinda Rajapaksa Government and to explore the possibility of implementing joint passenger exchange programmes between the Hambantota Port and airport. Mattala Rajapaksa International Airport was in operation prior to 2015 and was serviced by several airlines including SriLankan, Fly Dubai and Air Arabia Airlines. However, due to the low demand, most of these airlines suspended services to the airport soon after its opening.

In 2014, 40,386 passengers received services at the Mattala airport and in 2019, the number was only 1,536. In 2014, the Mattala airport handled 214 metric tonnes of cargo. However, there was no cargo handling at the airport last year.