---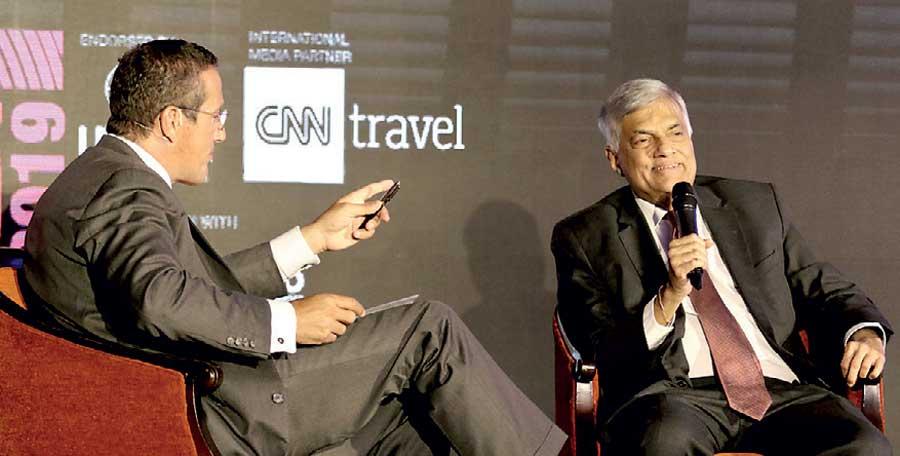 Prime Minister Ranil Wickremesinghe in discussion with Richard Quest
By Yohan Perera
National carrier SriLankan Airlines should be managed by the private sector as the interference by the government had led to its downfall, Prime Minister Ranil Wickremesinghe said yesterday.

Wickremesinghe said this responding to a question raised by Richard Quest, CNN correspondent and host of the popular TV programme 'Quest Means Business', at the 'Cinnamon Future of Tourism' summit in Colombo.

Quest then posed the question as to whether the downfall of the airline was due to bad management or the interference of the government. The premier said it was due to the latter.
Meanwhile, Wickremesinghe said the private sector should keep the tourism sector going while the government would also play its role as a facilitator.

He then assured that the government would bring in new laws, specially to control the taxes levied on the tourism industry by the local bodies.

He also said the government is looking towards dropping some laws in the construction sector so that the time taken to start up a construction
project would be shortened.

Quest then asked the premier on the development of infrastructure required for the tourism sector going forward. Wickremesinghe answered that the government already has plans to make the Mattala, Jaffna and Batticaloa airports operational for tourism purposes.

However, he said the success of it depends on the availability of domestic airlines to operate through these airports.

Meanwhile, Wickremesinghe responding to a question on the lack of communication, which had prevailed when it came to the prior warnings received on the Easter Sunday attacks, said Sri Lanka should not neglect the information received from foreign intelligence agencies.

"The issue was that the information stayed with the government officers without posting it to the political leadership," he said.
Asked whether the reports of investigations carried out on the Easter Sunday attacks would be made public, Wickremesinghe said the report of the investigations that are being carried out by the Parliamentary Select Committee would be made public.

"Besides, Archbishop of Colombo Cardinal Malcolm Ranjith had wanted another independent investigation carried out on the attacks and I too won't mind another probe," he said.
He also noted that the government has already done what is needful to kick start the recovery of the tourism industry, which dealt a deadly blow on April 21.