---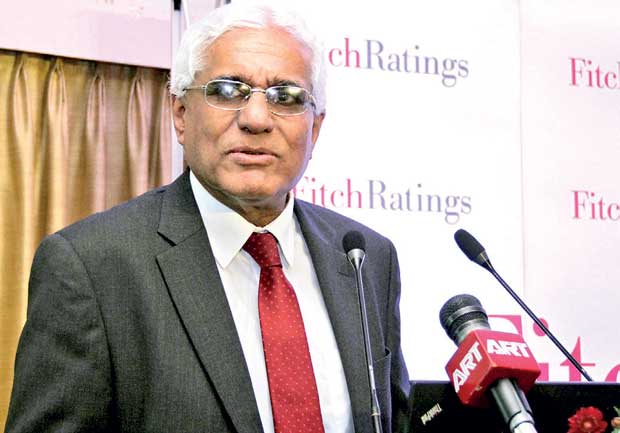 The Central Bank Governor, Dr. Indrajith Coomaraswamy said the domestic debt repayment challenge in 2018 would be much worse than that of this year's and going forward Sri Lanka would have sovereign debt maturities every year starting from 2019 leaving very little headroom for further borrowings.
"On the debt dynamics, this year and next year, there is a peak in domestic debt re-payments. Then, there is a bunching of external debt repayments from 2019 onwards", said Dr. Coomaraswamy speaking at a forum organised by Fitch Ratings this week.
The bunching up of domestic debt repayments during the first 5 months of this year imposed heavy burdens on the market with the interest rates moving up significantly due to the government borrowings from the domestic market for serving those debts.
But now it appears that much of the burden has been cleared as he sees no need for bond issuances going forward.
" We have got over the worst of this year", the Governor said as there would not be any requirement for bond issuances from August which will ease the pressure on market liquidity. "From August onwards there are no bond issuances", he assured although there will be a few coming up until such time. In fact since lately the interest rates have been easing with the market liquidity improving.
Meanwhile the Central Bank's holding of the government securities or the printed money stock also came down from over Rs.300 billion to a little above Rs.200 billion within a matter of a month.
However the Governor wants to bring it further down to less than Rs.180 billion by the end of 2017. Dr. Coomaraswamy however said he wanted to use the balance 5 - months of this year to build a buffer to meet the debt repayments that would be coming up next year, and according to him the debt challenge is much bigger than that of this year.
"Next year's challenge is actually even bigger than this year's. So, it's important that we build these buffers during the last 5 - months of this year, so that we can manage that without too much of a spike in the interest rates", he added.
" And I think you would see interest rates stepping down as well as the government's claim on resources coming down during the second half of the year", he said. To support this buffer building to better prepare for debt servicing next year as well as to further enhance transparency of the government securities auctioning process, the Central Bank will introduce a new auction system in August. The new bond auction system has been developed after consultation with the international experts and local stakeholders but the Governor fell short of elaborating much on it as it was yet to receive the Monetary Board's approval.
However the cautiously optimistic Governor said much of the success of its forecasts would be contingent on the continual improvement in the fiscal side which so far has faired well.
Meanwhile speaking on the challenge posed from the external debt front, Dr. Coomaraswamy said the country would have sovereign bond maturity ever year starting from 2019 to 2022 with a break in 2023 and 2024 and again starting from 2025 leaving little headroom for the government.
According to data there are as much as US $ 5.0 billion sovereign bond maturities coming up for due during the 3 - years from 2019 to 2022 for which the country's external reserves are barely enough to meet the liability.
This means, Sri Lanka will have to borrow consecutively for 3 - years from the international capital market to roll-over its external debt.
Unless the country's macro-economic condition improves considerably, Sri Lanka will have to pay a hefty risk premium for its international borrowings, particularly at a time when the interest rates in the United States treasuries are set to increase further.