---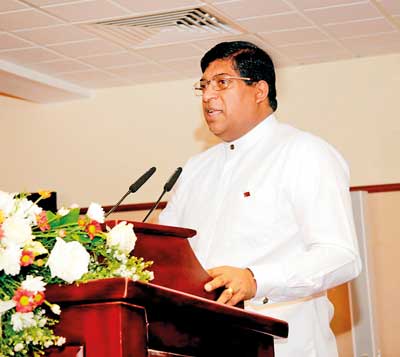 When the present government came into power, there was a corrupt economy. However, the government has accepted the challenge of strengthening it, said Finance Minister Ravi Karunanayake.
The Minister further said that the main intention of the government is to take forward the country with transparency and there is no point blaming the past. The Minister made these remarks on Thursday (31), at the opening ceremony of the newly constructed treasury building by President Maithripala Sirisena in the presence of Prime Minister, Ranil Wickremesinghe "If a proper economy has been handed over to us, we would have taken it forward without difficulty. But a corrupt economy has been given to us. Not only the money here, even the safes that hold the money have been taken away. It is like handing over a centless Bank to the Manager.
The responsibility entrusted upon the Finnace Ministry is to lead the country towards rapid economic growth, utilizing the limited resources of the country to meet unlimited requirements of its people. Even at this moment, investments are pouring in to the country. Last year we were able to provide Rs. 20,000 crores to the country. We discuss all economic matters on a daily basis and take reliable decisions. I am pleased to inform that every file received to the Ministry of Finance will be attended within 48 hours as we are bound to follow the guidance given by the President and the Prime Minister. We request the media for their support in this endeavor. We are still in the process of revealing past corruption.
It is not the duty of media to create issues which are not there," the Minister further said. Nimal Siripala De Silava, Minister of Transport Rishad Badhiudeen, Minister of Industry and Commerce, D.M. Swaminathan, Minister of Rehabilitation and Hindu Affairs. Lakshman Yapa Abeywardane, State Minister of Finance also participated at the event.
P.B. Abeykoon, Secretary to the President, Dr R.H.S. Samarathunghe, Secretary, Ministry of Finance, R. Paskaralingam, Advisor to the Prime Minister on Economic Affairs, R.S. Attigalla, Chandra Ekanayake, Deputy Secretaries to the Treasury , and H.G. Sumanasinghe, Director General, Ministry of Finance and senior officers of the Ministry of Finance also attended the event.