---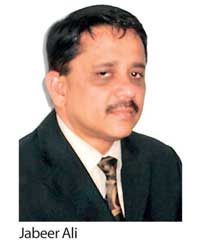 Golden Falcon Group announced the appointment of Jabeer Ali as a Country Manager: (Business Development) Sri Lanka & Maldives.

Golden Falcon are the sales and distribution associates of Cooper Tire & Rubber Co U.S.A. for distribution of Tires in SAFTA Region of India, Sri Lanka, Pakistan, Bangladesh, Myanmar and Maldives.

Cooper Tire & Rubber Co U.S.A. is a Global Top 10 Tire manufacturer based in U.S.A. and the World leaders in 4x4 and SUV tires. In addition Cooper Tires manufactures a full range of high performance passenger Car Radial Tires in manufacturing facilities in U.S.A., U.K. Mexico, Europe and China.

Cooper Tire Brands: Cooper Tires-Made in U.S.A, Cooper Tires-Made in China, Mastercraft Tires-Made in U.S.A, Starfire Tires-Made in China, Avon Tires- Made in U.K., U.S.A., and Europe and Avon Motorsport Tires, U.K. With over 25 years' experience in the sales and Marketing Jabeer Ali moves into the position of Country Manager from his current role which he has responsibility for Customer Experience, Product Developments, Sales and Marketing

Jabeer Ali has an impressive past track record in sales, Marketing, and Brand management, He also has 16 years of Success as a dynamic Selling experience in the Market Leader brand of Brake fluid, Tires and Tubes in Sri Lanka. He is also one of the Directors of Cey Hedges Lanka Pvt Ltd; Sri Lanka based Tires and Tubes Trading Company.
Prior to joining cooper tires Jabeer Ali Worked The Maharaja Organization, DIMO, Browns AD, and Mc Shaw Automotive Ltd (JV of McLaren's and Shaw Wallace & Hedges).