---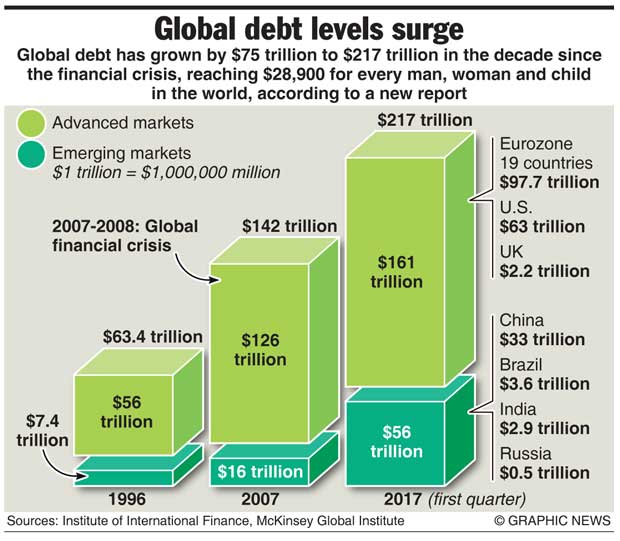 Global debt has grown by US$75 trillion to $217 trillion in the decade since the 2007-08 financial crisis, reaching US$28,900 for every man, woman and child in the world according to a new report.
Global debt levels surge.
Graphic shows rise in global borrowing in advanced and emerging markets over past 21 years. US$1 trillion = US$1,000,000 million. (107mm by 92mm deep (print) and 2-screen responsive graphic (digital))
Global debt levels stood at 327 percent of the world's annual economic output (GDP) in the first quarter of 2017, according to the Institute of International Finance (IIF).
A decade-long, US$40 trillion borrowing spree in the developing world added to the debt since 2007, a significant acceleration from the US$8.6 trillion added between 1996
and 2007.
Of US$56 trillion of emerging market debt, China accounted for almost US$33 trillion, led by household and company borrowing. Brazil accounted for US$3.6 trillion and India for 2.9 trillion, the IFF said in its report.