---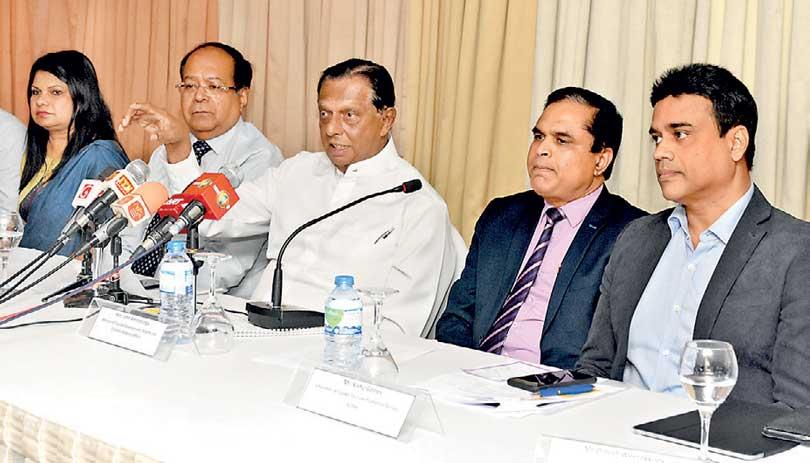 From left : The SLTPB Managing Director Charmarie Maelge, The SLCB Chairman Kumar De Silva, The Tourism Development Wildlife and Christian Religious Affairs Minister John Amaratunga, The Controller General of Immigration and Emigration R. M. P. S. B. Rathnayake and the SLTPB Chairman Kishu Gomes.
Pic by Nimalsiri Edirisinghe
SL to welcome over 25, 000 tourists from 40 countries
Total tourist arrivals this month set to top 175, 000
Tourism Minister says economic windfall could exceed US $ 50mn
Says city hotels reaching full capacity; informal sector also benefiting
SLTPB expects to record YoY growth in arrivals next two months
By Nishel Fernando
Sri Lanka plans to welcome over 175,000 tourists this month, expecting a major boost from the mega Bohra Global Convention scheduled to be held in Colombo.
The Bohra Global Convention, which is scheduled to be held in Colombo from September 1 to 10 is expected to draw 25,000 foreign participants from over 40 countries.
"The Bohra Global Convention is probably the single biggest event to be hosted in Colombo in recent times. It was initially expected to draw in 20,000 visitors from 40 countries to the island for a period of up to three weeks.

However, I have been told now that this figures has gone up to 25, 000 and participants have already begun arriving at BIA from Wednesday," Tourism Development, Wildlife and Christian Religious Affairs Minister John Amaratunga told reporters in Colombo yesterday.

Sri Lanka's tourism authorities were earlier targeting 150,000-155,000 tourist arrivals for the month. However, Sri Lanka Tourism Promotion Bureau (SLTPB) Chairman Kishu Gomes said the tourist arrivals for the month may exceed 175,000 with the mega convention being held in Colombo.

However, tourist arrivals would be still below by 25,000 compared to the tourist arrivals of 200,359 in August last year.
Gomes was upbeat that tourist arrivals would record year-on-year growth during next two months for the first time since Easter Sunday attacks, based on the current upward trends in arrivals.

Commenting on the economic impact from the mega convention, Amaratunga said the economic benefit to the country may be in excess of US $50 million with the struggling hotel industry being the main beneficiary.

"The main beneficiary is the hotels which are expected to be operating at full capacity during the event period.

"I have been told that 3-star and 4-star hotels, which were selling rooms at US $ 70 are selling now at US $140. As of Wednesday, Rs.400 million worth of hotel bookings had been made with much more to come," he stressed.

According to the Colombo City Hotels Association, the current occupancy rates stands at 45 percent and the booking rates have gone up to 90 percent.

However, Amaratunga noted that many visitors were also making bookings in the informal sector accommodation as the formal sector accommodations were already reaching its full capacity.

According to him, at least 200 apartments in Colombo have already been reserved for accommodation.

Further, he said visitors are also reserving accommodations from Negombo to Galle as the accommodations in Colombo is reaching full capacity.

The island nation expects visitors from Australia, Bahrain, Bangladesh, Canada, China, Egypt, France, Germany, Hong Kong, India, Indonesia, Iraq, Ireland, Japan, Kenya, Kuwait, Malaysia, Myanmar, Netherlands, Norway, Oman, Pakistan, Portugal, Qatar, Saudi Arabia, Singapore, South Africa, Sweden, Tanzania, Thailand, United Arab Emirates, Uganda, the UK, the US, Yemen and Zambia for the mega convention.

The Controller General of Immigration and Emigration, R. M. P. S. B. Rathnayake said a special counter for convention visitors has being installed at BIA to assist them, while free visa facility has also been extended to all participants. Amaratunga emphasised that the mega convention would be a golden opportunity for Sri Lanka to fast-track tourism recovery by gaining the much needed publicity to showcase Sri Lanka as a safe destination.

"It's a blessing in disguise for the industry and a massive booster for the country," he said.

The global convention titled 'We Believe in Sri Lanka,' aims at zero food and plastic waste, making it the first carbon-neutral religious commemoration held at the Bohra headquarters in Colombo 4.
---
SLTPB abandons Rs.1bn post-recovery promo campaign
Sri Lanka Tourism Promotion Bureau (SLTPB) has abandoned the earlier planned post recovery promotion campaign worth of Rs.1 billion after it ran into bureaucratic obstacles.
SLTPB Managing Director Charmarie Maelge said the promotion campaign which consisted a 45-day PR campaign and a 3-month advertising campaign was abandoned and it will be replaced by a multi-country campaign focusing on 12 mature source markets.

As per a tourism industry proposal, the Easter attacks recovery promotion campaign was to be awarded to J. Walter Thompson (JWT).

However, the Attorney General's Department had raised legal concerns for not following the tender procedure to award the campaign to JWT despite Cabinet approval.

"As an industry, we have been pushing the authorities to go ahead with promotional campaigns as soon as possible, which should have started long time before. The industry is anyway disappointed that the promotion campaigns had not got off the ground," a tourism industry stakeholder on the grounds of anonymity told Mirror Business.
Maelge emphasised that there's no longer a requirement for a recovery promotional campaign as the industry is rebounding at a faster rate than expected.
"We are looking at short, medium and long-term strategic directions," she stressed.

While noting that the proposed campaign is still at the discussion level, she also stressed that SLTPB will strictly adhere to the tender procedures and on research to ensure the industry will get the highest returns for the investments.

The proposed new promotion campaign is likely to include India, China, UK, France, Germany, Italy, and Australia while the Middle East is also under consideration.