---
""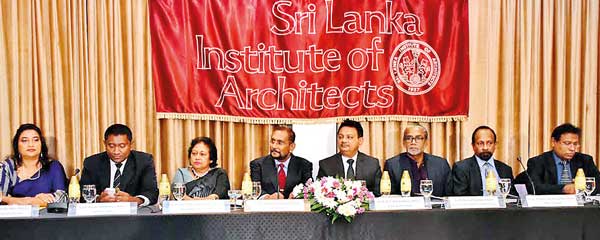 From left: Media Committee Chairperson Dilummini De Mel, Secretary Russell Dandeniya, Immediate Past President Chitra Weddikkara, President Harsha Fernando, Senior Vice President D.H. Wijewardene, Vice President Bernard Gomez, Treasurer Veranjan Kurukulasuriya and National Conference Chairman Ranjana Suraweera during the press conference
By Lahiru Pothmulla The Sri Lanka Institute of Architects (SLIA), the apex body representing the architects of the island, expressed optimism that the government would give local architects a fair share by using them in its endeavours to develop the country such as the Megapolis, Port City and other mega development projects.
SLIA Immediate Past-President Prof. Chitra Wedikkara said the Sri Lankan architects are as good and qualified as the architects of any part of the world and the upcoming massive programmes should too filtered to Sri Lankan architects.
"The government is using foreign architects such as Singaporean in its development projects. We too have the same qualification, same experience and everything. We are not grudging against any foreign architects. Give us also a fair share so we can show our colours. After all, these projects are for the people of Sri Lanka," she said.
Speaking at a media briefing held in Colombo recently on 'Architect 2016', the members' work and trade exhibition organised by the SLIA, Wedikkara further said the international relations were very important to the SLIA and its IRs are in demand in various parts of the world. "Our architects will have the exposure of the world and see what is happening in the global architect fraternity by having sound and strong international relations.
It also helps the SLIA to become a global entity in the architect fraternity in the world. Our members are very active in these organisations and work all over the world because they are accepted as sensitive good design architects," she said. The inauguration ceremony of the annual sessions of Architect 2016 would be held on February 16 at the BMICH followed by the National Conference on February 17 and the exhibition from February 18 to 21.
The trade exhibition would be held for the 34th consecutive year and would be opened for public from 10:00 a.m. to 10:00 a.m. It would consist more than 300 trade stalls and 132 display panels. SLIA President Harsha Fernando said Minister Sarath Amunugama - as the presiding officer representing President Maithripala Sirisena - and Ministers Patali Champika Ranawaka, Sajith Premadasa and Rajitha Senaratne would be joining the annual sessions on February 16 as guests of honour. Meanwhile, commenting on the National Conference, which would be held under the theme 'Flows- Touching the Void',
National Conference Committee Chairman Ranjana Suraweera said world-renowned foreign architects such as Richard Murphy, Edric Florentino and Wong Mun Summ would deliver keynote speeches and Sri Lanka's renowned architects Anusha Rajapakse, D.H. Wijewardene, Madhura Prematilleke and J.M.R. Jayasinghe would also share their experiences at the conference. SLIA Senior Vice President D.H. Wijewardene said a number of architects and students who had done well in their filed would be facilitated at the Annual Session.
Architect of the Year, Best Design, Best Colour and the Yong Architect Award are a few to be awarded. "Two architects who have done eminent contribution for the profession and education sector will also be facilitated," he said. He also commented on their social responsibility project which was launched in the Northern Province to elevate the architecture there and to preserve historic and dilapidated buildings. Pic by Indraratne Balasuriya