---
By Shabiya Ali Ahlam
Responding to the growing criticisms thrown at the government for not showing any visible economic development, International Trade State Minister Sujeewa Senasinghe asserted that the new regime has thus far spent its time in getting the foundation right to ensure the on-going development plans are executed in a sustainable manner.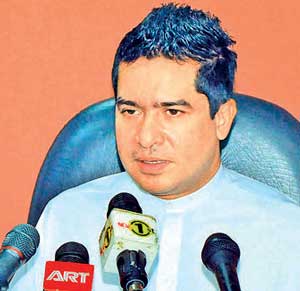 Stressing that the government would stay true to its promise, Senasinghe said, "This is just a start. The government has given a promise. People might feel we have not done enough. People continue to ask what have we done and the reply is that we have been laying the foundation for good governance, democracy and rule of law. These are not easy."

Justifying the time spent by the new government since it took over, the minister elaborated that a whole year was taken to get the minority government right. From a macro perspective, efforts are being made to lower the debt and restructure loans, he added.

While much emphasis is given on building the macro environment, Senasinghe expressed confidently that there is no doubt in Sri Lanka's future being bright.

"We are working on a number of areas and the future is certainly bright for us. Our president is representing our nation in a number of international events, some which we weren't invited to before, and that is the result of the foundation we have laid. On this we are confident we can build a strong Sri Lanka," said Senasinghe.

It was pointed out that in establishing a series of macro projects the government hopes to have the necessary infrastructure, such as highways which would improve connectivity, ready in three years. In this endeavour he added that the nation has been successful in getting countries such as India, Pakistan and China to extend its support.

"When we are in discussion with these countries I am proud to note that now no one is asking for commissions and hand-outs. All our officials are interested in is foreign direct investment (FDI), technology that would be brought in and the employment that would be generated," said the minister implying corruption has been trimmed across all levels.

He also added much work is needed in the area of branding Sri Lanka. While the nation is still largely linked to the brand 'Ceylon', it was stressed commitment is required from both, the private and public sectors, to push the brand 'Sri Lanka' in the international area.