---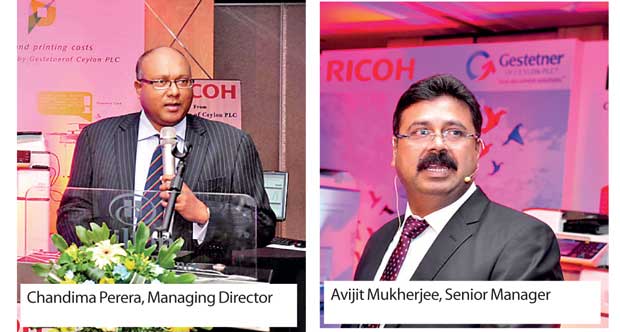 Total document solutions provider Gestetner of Ceylon PLC recently added two brand new products to its portfolio, enriching its capacity to service the documentation needs of clients including some of Sri Lanka's top conglomerates.

These were introduced to key clients and partners at a launch ceremony at Hilton Colombo Residence.

The products, known as Papercut and ESA Transformer, were launched in partnership with Ricoh Asia Pacific. The launch was attended by several top representatives from Gestetner and Ricoh including S.J.M. Anzsar, Chairman Gestetner of Ceylon PLC, Avijit Mukherjee, Senior Manager Strategic Marketing for Ricoh Asia and several IT heads from top corporates in Sri Lanka.

Observing the demonstrations at the launch, the latter shared positive feedback on the products' advanced and highly customizable functions, optimum for business documentation needs.

"We're very excited to be adding these products to our portfolio," noted Chandima Perera, Managing Director for Gestetner of Ceylon PLC. "Over the last year in particular our client network grew rapidly, and our dealer network expanded to match. These products will be available across the island for businesses to manage their documentation procedures in the most effective, cost efficient way possible."

Papercut was developed by Ricoh in partnership with an Australia-based software company. It allows the user to keep track of the printing process-for example it increases transparency in the printing process, allows the dictation of print policies for more efficiency, and improves document and device security. Papercut can also track costs by user, allocate printing quotas and implement a pay per model to recoup printing costs. In addition it has several convenient tools such as email to print, Google Cloud and iOS printing and web printing.

The ESA Transformer is capable of transforming documents into usable electronic files. Using the device, paper documents can be converted to editable e-files in a preferred file format. It is cost effective, quick and easy to use-by eliminating the need for expensive desktop OCR packages, it allows easy convertibility of documents which can then be delivered directly to a network folder or email address.

Gestetner is one of the top three document solutions providers in Sri Lanka. The country's top conglomerates have entrusted Gestetner with their document systems management for many decades and in 2014 it celebrated its 50th year as a public quoted company in Sri Lanka. Ricoh Asia Pacific is a global technology company specializing in office imaging equipment, production print solutions, document management systems and IT services. Headquartered in Tokyo, the Ricoh Group operates in about 200 countries and regions.