---
By Zahara Zuhair
Acknowledging the Sri Lankan government's positive approach of creating a more conducive environment for foreign investments, Embassy of the Federal Republic of Germany Deputy Ambassador Dr. Michael Dohmen said they are looking forward to invest in the Southern part of the country.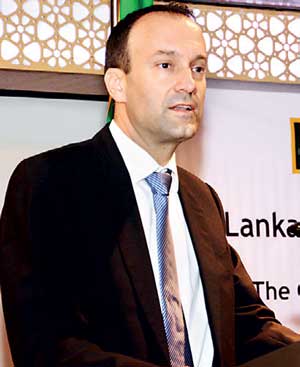 "It is important that our corporation is not only going to North, but also to projects in other areas as well. It is true the focus is the North and East. We are interested in getting German support to the South as well. We are working on a process to support the South," he told the Annual General Meeting (AGM) of Sri Lanka-Germany Business Council hosted by the Ceylon Chamber of Commerce (CCC) for the years 2015/16 this week.
"The Sri Lankan government has asked us to assist in building up a vocational training centre in the South. We hope that very soon we can do a feasibility study," he said.
Having a look at the visa applications, he stated that the number of business visas issued by the German Embassy in 2016 has increased by 20 percent, compared to 2015.
"We are happy of this increased interest and we have also noted that more German businessmen and representatives of companies are coming to Sri Lanka."
With regard to GSP Plus, he said that a country has to ratify and implement 27 core international conventions relating to human rights, labour rights, environment and good governance in order to enjoy it.
"The European Union (EU) is currently assessing the progress of the Sri Lanka's application. Certainly the PTA reform is one precondition. More precisely it is important that the new legislation is compatible with the Sri Lankan law and international commitments," he noted.
Meanwhile, the envoy also expressed his delight on Sri Lanka becoming part of the Energy Export Initiative of their Federal Ministry for Economic Affairs and Energy.
"The initiative aims at assisting small and medium-sized enterprises (SMEs) offering energy solutions in the fields of renewable energy, energy efficiency, smart grids and storage technologies to establish contacts in other countries," he said.
He said the initiative further offers matchmaking services abroad in the context of business missions organised by bilateral chambers of commerce.
"This is an interesting opportunity for both countries. Through the initiative, several trips to Sri Lanka will be organized. The first visit is scheduled for 2017 and will focus on wind and net integration. Solar energy will come up later," he said.
He also revealed of the opening of German Chamber of Commerce branch office in Colombo, that is most likely to occur in the first half of 2017. He said that this will boost German company interest here, and will be able to provide services particularly to German SME's that are interested in the Sri Lankan market.
Touching on bilateral trade between the two countries, he said it has increased considerably in the first six months of 2016 with German exports to Sri Lanka increasing by 26 percent and Sri Lankan exports to Germany by almost 5 percent.
"The overall increase is about 11.6 percent. We observe that German companies have an increased interest in investing in Sri Lanka and becoming active, be it directly or through a local agent," he said.
With regards to investments, he said that the Megapolis project offers new perspectives for further cooperation. He said that German companies have excellent knowledge in the field of infrastructure, smart cities and public transport.
"Siemens and Fraunhofer are already active in Sri Lanka. ICT, renewable energy and tourism are also sectors where we see potential for German companies," he said.
In terms of bilateral cooperation, the envoy said they have been very active in the field of vocational training. He said that the GIZ has helped the Sri Lankan government to establish the vocational training centre in Kilinochchi which was inaugurated in July this year.
During the year 2015, trade balance between Sri Lanka and Germany stood at US $ 126.88 million, favour of Sri Lanka. Sri Lanka's exports to Germany during the year stood at US $ 473.95 million and imports at US $ 347.07 million.
Main items exported from Sri Lanka to Germany in the year 2015 were apparel and clothing, rubber and articles thereof, coffee, tea and spices etc. Main items imported from Germany to Sri Lanka as noted were machinery and mechanical appliances, vehicles other than railway or tramway rolling-stock and optical, photographic, medical or surgical instruments etc.
Tourism total arrivals from Germany increased from 102,977 to 115,868 in 2015. The envoy was hopeful that it would hit 140,000 this year.