---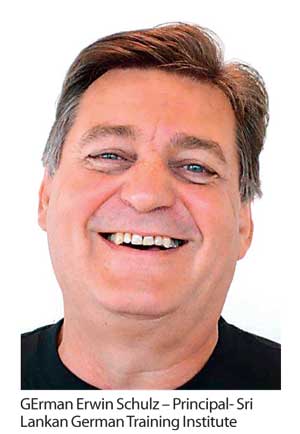 In February this year, Sri Lanka's President, Maithripala Sirisena invited German investors to take advantage of the increasing economic opportunities in Sri Lanka at a media briefing during his visit to Berlin. He spoke of the long-standing partnership between Germany and Sri Lanka, which spans over five decades, and cited the contributions made to Sri Lanka's vocational training development as an excellent model of cooperation between the two countries.

Since the early 1950s, Germany has played a key role in developing skills and vocational training opportunities for Sri Lankan youth. Beginning with the Ceylon German Technical Training Institute (CGTTI), which to-date is considered one of the country's top automotive skills development institutes with global recognition and has been a benchmark of a successful vocational training institute.
Subsequent projects such as the Industrial Engineering Training Institute (IETI - formerly the Apprentice Training Institute), the Ceylon German Railway Training Institute (SLGRTI) and the Farm Mechanisation Training Centre (FMTC) have introduced German methodologies and practices into Sri Lanka's vocational training and skills development programmes to ensure that well-rounded and employable youth are being moulded, to contribute towards the national economy.

On the 18th of July 2016, the Sri Lanka - German Training Institute (SLGTI) will open in Kilinochchi, further cementing this alliance. The SLGTI is a collaborative project initiated by the Ministry of Skills Development and Vocational Training via the National Apprentice and Industrial Training Authority (NAITA), Deutsche Gesellschaft für Internationale Zusammenarbeit (GIZ) GmbH and the German development bank - KfW (Kreditanstalt für Wiederaufbau).

Much like the CGTTI over fifty years ago, the SLGTI will help change Sri Lanka's Technical and Vocational Education and Training (TVET) landscape and offer demand-driven vocational training for young men and women of Sri Lanka.

Bringing in German expertise and know-how is Erwin Schulz, who will come in as the principal of the SLGTI. Schulz has served as a director at vocational training institutes in Europe, Africa and the Middle East and will work closely with the Ministry of Skills Development and Vocational Training and NAITA with the support of GIZ to manage its day-to-day operations.

After getting his Masters in automotive engineering Schulz entered the job market as a research engineer and later as development and design manager with different companies in German and Austrian. He then switched to teaching, obtaining a higher diploma in vocational training and vocational training management. For the last 15 years, he has been working and managing vocational training institutes in Tanzania, Germany and Ethiopia. He currently oversees operations of the Technical Trainers College in Saudi Arabia.

"Vocational training is one of the pillars of a good economy and is essential for the development of any sector of the economy. Once the SLGTI opens, my goal is to build up a state-of-the-art institute that will provide the best possible training for students so that they can gain an excellent foundation for their future career," says Schulz.

The SLGTI's goal for Sri Lanka is to emulate the German TVET system and its principles, with special emphasis on providing on-the-job-training (OJT) for students through numerous partnerships with the private sector. Apart from improving their technical skills, students will also focus on developing themselves in social skills. Special emphasis will also be placed on enhancing students' English language skills with mandatory English lessons and a dedicated English resource centre.

GIZ will also play an important role, in ensuring that the institute has the very best in technical trainers and instructors. "One of my tasks will be to ensure that the teachers are qualified and dedicated to their job," adds Schulz. Teachers at the institute will receive periodical training and attend workshops, locally and overseas, geared to enhance their abilities in the classroom for better student-teacher interactions and collaborative learning within the classrooms.

"My job here is multi-fold. My key task will be to ensure that the day-to-day operations of the institute run smoothly and at high level. But it's not just about skills and knowledge but also the right attitude that's critical in ensuring that SLGTI will produce well-rounded and responsible citizens," he said in conclusion.