---
'Learning by doing' was the motto of three German scientists who conducted workshops with school children in Maliyadewa Kurunegala, St. Patrick's College Jaffna and Musaeus College in Colombo.
"We never had science lessons like this before," said an excited student after the workshops.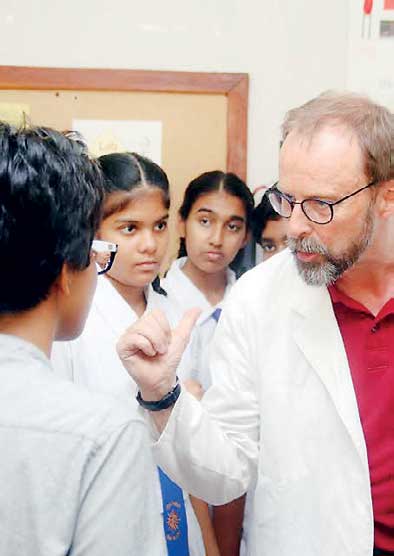 "Although the scientists explained things to us, we were allowed to do everything ourselves. We measured the exhaust fumes of a three-wheeler. We cleaned dirty water and we had to collect plastic waste from the school grounds and they showed us that plastic can be re-used and that it is a waste of money to just throw it away!"
In front of the surprised eyes of their teachers every student had the opportunity to conduct experiments him/herself, which helped to gain a sound knowledge on how exhaust fumes and plastic waste harm the environment. Not only students, but also teachers benefitted greatly from this novel experience to let the students get actively involved.
The scientists were deeply impressed by the enthusiasm the students showed throughout the workshops and the quality of the presentations they did for their teachers and fellow students afterwards. "Also for us it was a great experience and we truly enjoyed to work with the children", said Prof. Herbers, the founder and head of teutolab.
'teutolab' was invented by the Bielefeld University and has so far reached out to 200.000 students all over the globe.
The project was organised by the Cultural Department of the German Embassy Colombo and supported by BASF (main sponsor), Bayer Crop, Hilton Residences and Jetwing Group.