---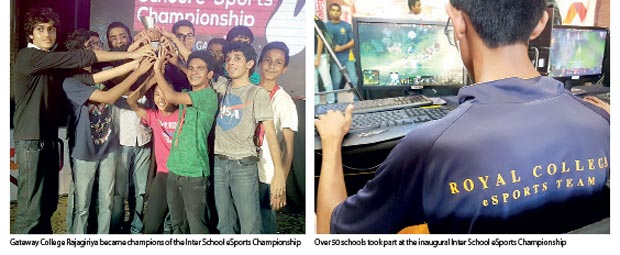 Gamer.LK is proud to present the second edition of its Inter-School eSports Championship with students from government and private schools competing for the prestigious Championship Trophy.
Powered by Dialog Gaming, the Championship will be held on 30th September and 01st October at Trace – Expert City.

The tournament was introduced last yearwith the intention of showcasing the advantages of structured competitive video games. Over 50 schools participated in last year's edition.

The Inter-University and Mercantile eSports Championships held earlier this year were also concluded with resounding success.

A highlight during the year's event will be the promotion of game-development awareness and education. Additionally, game-development workshops and discussions on how to balance eSports and maintain grades at school will be conducted. This year's championship will also feature a Women's League, open to all the school-girl gamers.

Globally, eSports is a recognised sport,regulated by governing bodies and international federations.eSportsin Sri Lanka is governed by the Sri Lanka e-Sports Association, which is a member of the International e-Sports Federation.

Sri Lankan youth have brought pride to the nation on several occasions representing the country at eSports World Championships. eSports is also now held alongside major events such as the Olympics and the Asian Indoor and Martial Arts Games (AIMAG).Additionally, Sri Lanka has been invited to participate, with support from the National Olympic Committee of Sri Lanka at this year's AIMAG too.

With video games perceived as a perennial problem among school children, Gamer.LK isstriving to take the passion and hours children spent in casual gaming and showcase it as a constructive, team based, regulated, sportingactivity.

The benefits of eSports are many, with studies showing increased cognitive growth, better hand-eye coordination, enhanced communication skills among team members, and increased critical thinking for problem solving.

eSports in Sri Lanka has received the support of organizations such as the Federation of Information Technology Industry Sri Lanka for its promotion of Information Technology, with eSports considered a pathway towards computer literacy and a future career in the IT industry.

The Inter School eSports Championship is powered by Dialog Gaming and supported byrenowned corporates; Official Radio Partner Kiss FM, Travel Partner PickMe, Digital Media Partner ReadMe, Videography PartnerVisaru and the Audio-Visual and Lighting Partner ElektroRevo.