---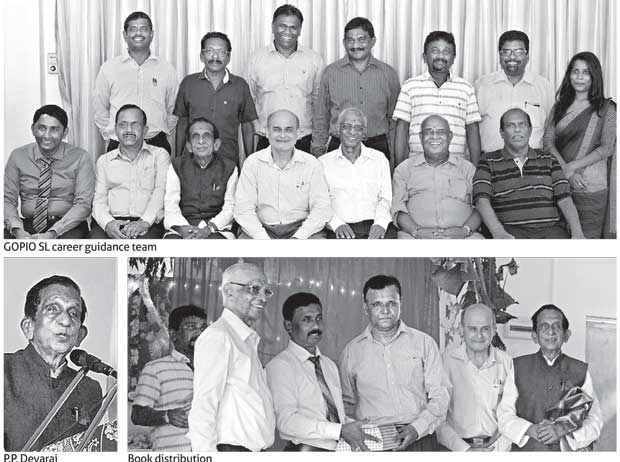 The Sri Lankan chapter of Global Organisation for Persons of Indian Origin (GOPIO SL) recently hosted a career development seminar in Deraniyagala, in the Kegalle District.

The objective of this programme was to provide the Advanced Level students in the plantation area schools the skills that will help them identify their professional interests and build self-confidence to act as guidance when they consider their career options. Approximately 300 students participated in this event. They represented St. Mary's College, Yatiyanthota, Tamil Maha Vidhyalaya, Dehiovita and Deraniyagala Sri Kathiresan Maha Vidhyalaya. GOPIO SL President Kaushik Udeshi stressed the role of GOPIO SL in the career guidance drive.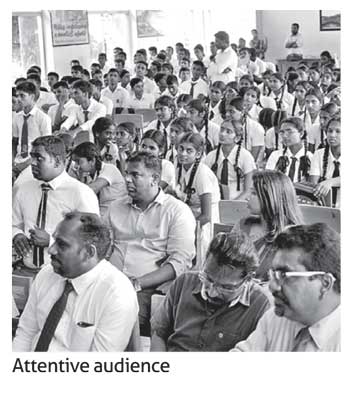 "The organisation has been assisting school leavers in job placements on a small scale thus far which is now being expanded," he said.

Dehiowita St. Marys Thamil Maha Vidyalaya Principal Udayakumar commended the GOPIO SL for hosting the event in a large scale for the first time in its history.

A session on leadership and character building was conducted by Virakesari's Senthilnathan, followed by motivational speeches by Attorney-at-Law Ganesharajan, Consultant/Trainer P. Surendran, Hatton Zonal Education Office Assistant Director Education Visvanathan Shanthakumar and Tertiary and Vocational Education Commission Assistant Director Mathaan.

On the same day, a presentation of books and English training manuals for young adults and children was arranged by former Parliamentarian and GOPIO SL Founder President P.P Devaraj.

In addition, Devaraj explained GOPIO SL's role in enhancing the teaching process of English in schools. Second Secretary Ramesh Iyer represented the Assistant High Commission of India in Kandy. Furthermore, the book handing ceremony highlighted how the Indian High Commission has been assisting to improve the overall application of English teaching in schools.

GOPIO SL is a non-partisan, secular organisation engaged in promoting the well-being of the people of Indian origin that involve in civic affairs and service to the local communities.