---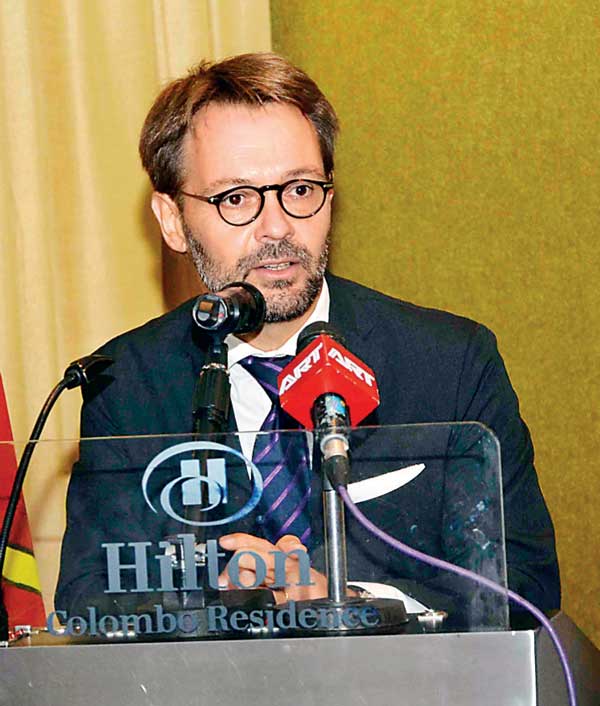 French Ambassador to Sri Lanka and Maldives Jean Martin Schuh
By Zahara Zuhair
French Ambassador to Sri Lanka and the Maldives Jean Martin Schuh said that French companies have a big potential for investment in Sri Lanka in the coming years, notably
in the sectors of urban development and smart cities.

"We hope our companies will be very much able to contribute to the Western Region Megapolis Development project," he told the Annual General Meeting (AGM) of Sri Lanka - France Business Council (SLFBC), hosted by the Ceylon Chamber of Commerce (CCC), in Colombo recently. In the economic sector, he said that currently there are two contracts that are signed for water supply by French companies in the last semester.

"The first one is an agreement made by the company Veolia, it was for equipment for the water supply network in Matale and this is for 330,000 people. Another significant contract was by the French company Suez, immediately after the visit of Sri Lankan Foreign Affairs Minister - that is also a contract of watery supply," he said.

He also said that they had a contract signed by Total, a French integrated oil and gas company, to explore offshore oil and gas. "That was in the beginning of this year, geographical survey and exploration of two offshore blocks in the Eastern coast and the size of the block is 65,000 square kilometres, if this survey is successful, Total will be the first French investor in Sri Lanka," he said.
The agreement in this regard was signed in February 2016, as a Joint Study Agreement (JSA) between the Ministry of Petroleum Resources Development and Total, to explore two ultra-deep water blocks off the east coast of Sri Lanka.

The ambassador said that in June 2016, French automative brand Renault was launched in Sri Lanka unveiling two of its flagship products, Kwid and Duster while noting that they have leased three Airbus A330s for SriLankan Airlines.

He said that Sri Lankan President Maithripala Sirisena was in France in November to attend the international climate change conference and Sri Lankan Foreign Affairs Minister Mangala Samaraweera was in France in June 2016, where he had met three French ministers and French businessmen who were interested in having trade relations with
Sri Lanka.

Some of the French companies such as CMCGA, Vinci, Safran, Bureau Veritas have already established their presence in Sri Lanka.
Pic by Waruna Wanniarachchi