---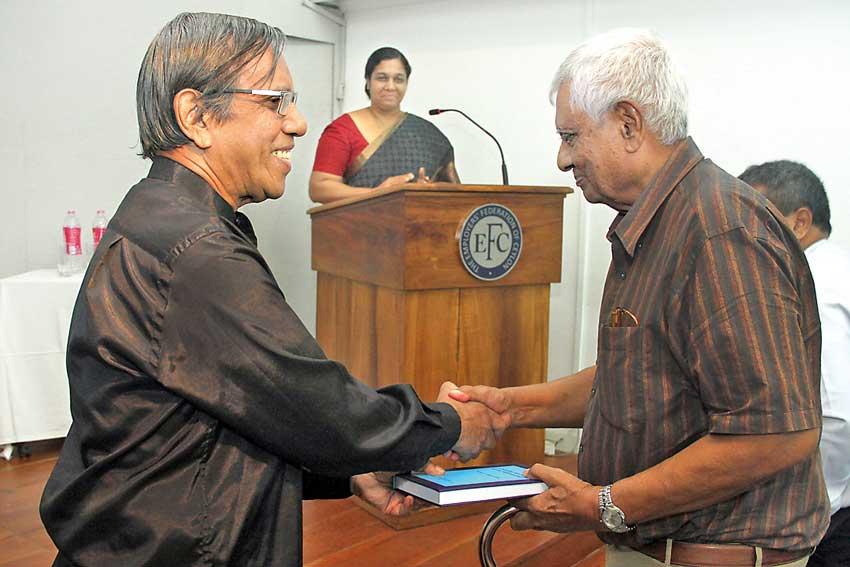 Author Franklyn Amerasinghe presenting a copy of his latest book to EFC Former Secretary General S.R. de Silva
Pic by Pradeep Dilruckshana
By Shabiya Ali Ahlam
Sri Lanka's Human Resource (HR) fraternity saw the addition of a localised publication with eminent lawyer and author Franklyn Amerasinghe having launched last week his latest book, 'Business Oriented People Management'.

Published by the Employers' Federation of Ceylon (EFC), Amerasinghe's newest contribution to management literature was well received by the business community as it is acknowledged to help tackle issues prevailing in the business sphere by adopting solutions that are locally relevant and applicable. Amerasinghe shared that the choice of the theme 'Business Oriented People Management' was aimed at placing people management and managers within an organisational frame, which is grappling with a multitude of factors, some of which are beyond the control of the enterprise.

"The common perception is that business management is about profits and people are a means to meet these expectations. Organisations need proper governance and concern for people who serve them whether they have a profit orientation or not," said the author during the launch event held in Colombo, last Thursday.
"I suggest that by acquiring awareness of factors that influence stakeholders, HR managers can make a more significant contribution to their organisations and also benefit by better recognition of their own roles by demonstrating their ability to think holistically," added Amerasinghe.

Amerasinghe's 'Business Oriented People Management focuses on key areas such as: Evolution of human resource management, The corporate sector and rules for governance, The people management function, Performance management, Globalisation, international obligations and markets, Labour legislation and industrial relations, Labour ministry and department, Collective bargaining, Conflict and dispute settlement, Communications and negotiation, Leadership and motivation, Compensation and rewards, and Structured dialogue for better workplace relations.

Sharing a review of the publication at the book launch event, Dr. Ranjith Cabral said that it is an "excellent book that shapes how one thinks about people and how to influence their behaviour to solve problems".

"It's a great guide to make logical and fair decisions on people matters and thereby improve your performance," said Dr. Cabral, an eminent academic and former colleague of Amerasinghe.

Having read the manuscript, Dr. Cabral shared that the author had used his vast experience in business, dealing with trade unions and Government ministries relating to labour and regulation, to show how challenges can be approached and managed in practical ways.

"His bold and conceptual thinking and ability to translate those ideas in simple ways to the reader is highly commendable," he said while adding that the book is also relatable to those in politics as it can help make better decisions in the governance of a nation by looking at national challenges from a commercial point of view.

Amerasinghe, who is an attorney-at-Law and former Director-General of the EFC has authored many books over the years on a range of topics covering law, conflict management, employee relations and CSR.

He has also produced training material for the ILO and others on social dialogue, negotiation and conflict management and done training in more than a dozen countries in Asia and Italy.
He has been involved in several projects with the ILO and other organizations, most of the work being in the area of social dialogue and conflict management at the workplace.
Amerasinghe was on a panel of trainers for the ILO Turin Centre.

He is also a Founder Trustee of the Association for Dialogue and Conflict Resolution (ADCOR).