---
By Nishel Fernando
Kyriad, a historical brand of France-based Louvre Hotels Group's (LHG) is entering Sri Lanka with plans to manage 2,000 rooms in 15 hotels across the country in five years, while targeting to bring over one million additional tourists to the Island nation through its extensive global network.

LHG with an ambitious plan to expand the Kyriad brand across the entire Indian Subcontinent, has assigned the master franchisee of Kyriad to India's Orange
Tiger Hospitality.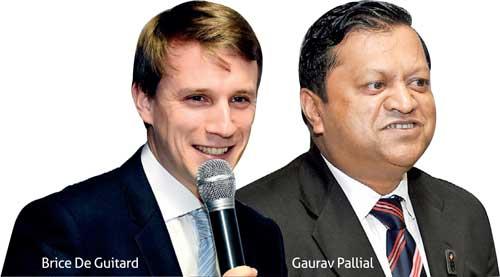 Orange Elephant Hospitality (Pvt) Ltd., the local subsidiary of Orange Tiger Hospitality, last Friday announced the launch of Kyriad brand in Sri Lanka by entering into two MOUs.
Leisure, Sports & Recreation (Pvt) Ltd (LSR) had recently signed an MOU with Orange Elephant to manage two of its resorts— Marina Passikudah and Passi Villas.
Further, Orange Elephant Hospitality also signed an MOU with Sanken to manage its luxury boutique resort in Bolgoda.

Negotiations are also underway to manage The Willows by Upcot Green Fields.

Orange Elephant Hospitality said it plans to manage hotels and luxury resorts in Colombo, Negombo, Bolgoda, Jaffna, Passikudah, Kandy, Nuwara- Eliya, Haputale, Bentota, Hikkaduwa, Dambulla, Galle and Anuradhapura.

LHG is a subsidiary of Shanghai-based State-owned conglomerate Jin Jiang International Hotels, which has now become the second largest hotel chain in the world only behind Marriott International.

"About 90 percent of tourists visiting Sri Lanka are from Asia Pacific and Europe. In those markets, we are in the dominant position. In Europe, we are number two and in India and China, we are number one," LHG, International Development Director Brice De Guitard said.

By the end of September, over 10,000 hotels were managed by Jin Jiang, while the number of guest rooms had reached one million.
Speaking to Mirror Business, Orange Tiger Hospitality Managing Director Gaurav Pallial emphasised that Sri Lanka could expect one million additional tourists, primarily from India, with its large base of loyal customers with Kyriad brand entering Sri Lanka.

"The flight fare from Mumbai to Delhi and Mumbai to Colombo is almost the same and the flying time is also almost the same. Further, Sri Lanka also waived visa fees to tourists including Indians, so it's a much cheaper destination for them," he said.

Further, he remarked that there is potential to attract further 0.5 million Indian tourists to Sri Lanka, if there was a second international airport.

Although, Jaffna International Airport commenced operations, he pointed out that air fares between Chennai and Jaffna remain more expensive than Chennai to Colombo.

Orange Tiger Hospitality currently manages 2, 000 rooms in India, maintaining an average occupancy of 70 percent.

Guitard noted that Kyriad brand would also enable Sri Lanka to attract more European and Chinese tourists with extensive network of customers.

Jin Jiang has also begun integrating its booking platform WeHotel and loyalty programme WeHotel Prime with their subsidiaries and hotel brands such as LHG. WeHotel Prime encompasses over 100 million members in China.

Launched in 2001, there are over 340 Kyriad branded hotels operating in the three to five-star category in five countries, while plans are underway to expand to over 1,000 hotels in over 15 countries over next few years.

LHG's portfolio now exceeds 1,500 hotels and 125,000 rooms in 54 countries.
Pix by Nimalsiri Edrisinghe