---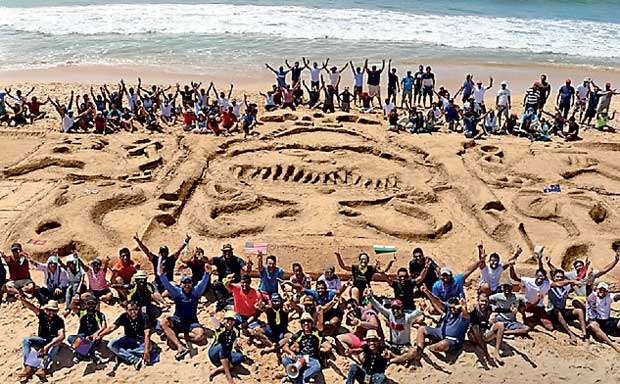 Fortude, a global technology solutions provider, in collaboration with Sandbox Consultancy, recently embarked on a team building initiative to create Sri Lanka's largest documented sand sculpture.

The structure was built by the Fortude employees and labelled the '100 Percent Zero Carbon Footprint CHIP Challenge', embodying the company's core values: caring, humility, integrity and passion.

The challenge garnered the participation of Fortude's 200-strong team of employees, who worked together to create a sand mosaic with 4500 cubic feet of sand spanning 90 feet in length and 45 feet in width.

The mosaic was a depiction of iconic Sri Lankan figures and symbols, reflecting ancient engineering artefacts.
Speaking at the event, Fortude Human Resources Senior Vice President Oshana Dias said, "At Fortude, we are constantly looking for new and engaging ways to nurture better collaboration. The challenge was unique and sent out a powerful message of what great teamwork can achieve."

The exercise was not only a team building initiative but the zero-carbon footprint challenge saw the beach restored to its original condition as part of Fortude's ethos to save the environment.

Sandbox Managing Director Angelo De Silva said, "At Sandbox, we look at providing unique challenges that are not only completely immersive experiences for the employees but also bring in the quantitative research and data component by developing themes exclusive to a set of participants, apart from mainstream learning and development initiatives.

The challenge with Fortude was developed over several months as we wanted it to be the first of its kind conducted in Sri Lanka, whilst also ensuring all corporate values were carefully embedded into each step."